Sustainability Reports
Our business is built on sustainability. We're committed to promoting people, planet, and profit – the triple bottom line – in everything that we do.
Read our annual Sustainability Reports for a detailed breakdown of how we're doing this and the progress we've made.
2023 Sustainability Report
Download your copy of our 2023 Sustainability Report Below!
This year we have focussed on implementing measurable steps towards creating a sustainable business.
This includes setting our official Net Zero Pledge, completing three of our nine targets set against the UN Sustainable Development Goals (SDGs) and helping to conclude the Interreg-funded CEDaCI project.
Find out about everything that we have been up to this year in our latest sustainability report available to download now.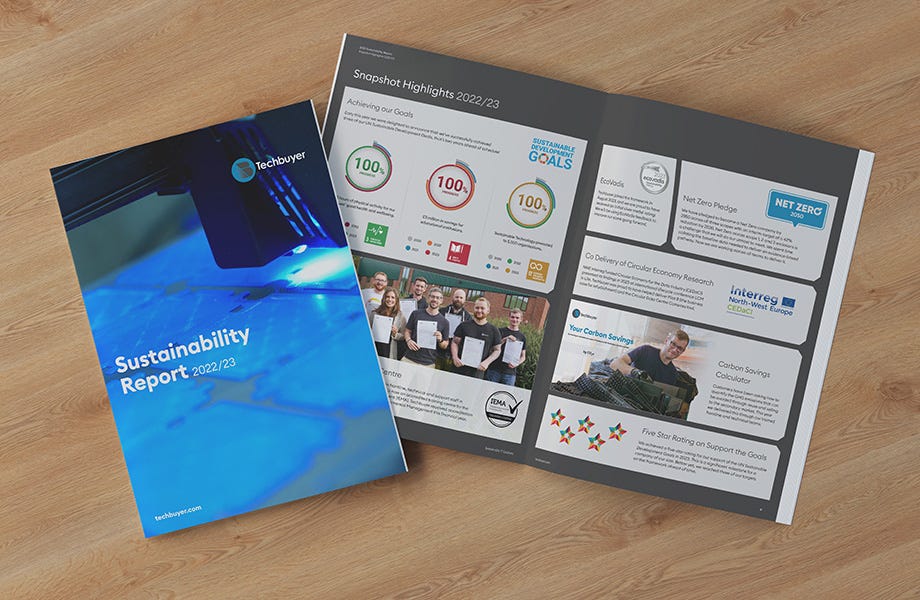 2022 Sustainability Report
From ground-breaking research studies to a progress report on our commitment to the UN Sustainable Development Goals, learn more about our sustainability achievements in 2022:

2021
Sustainability
Report
Find out more about our sustainability journey and the goals we set ourselves heading into 2022 in our complete sustainability report for 2021 below:

2020 Sustainability Report
2020 saw Techbuyer's first-ever sustainability report in which we documented everything we had undertaken to advance our environmental goals. Find out more below:
For more information on why sustainability is important to us and what we're doing about it, visit our Sustainability Homepage