Creating Brighter Futures from the Heart of Yorkshire
Here's how you can get involved…
In Partnership with Your Harrogate
We are proud to announce that we are partnering with Your Harrogate Radio for the #GreenMonth campaign throughout the month of September!
Over the course of the month, we will be discussing how both individuals and businesses can contribute to a more sustainable, brighter future. We will be sharing tips, tricks, resources and insights from sustainability experts and exploring how you can make an impact on the environment.
Tune in to Your Harrogate for daily tips, advice and recommendations from experts in our business on how to be more sustainable with your technology.
Techbuyer's #GreenMonth Library
We have published a library of useful resources relating to sustainability in business, your personal life and in your career.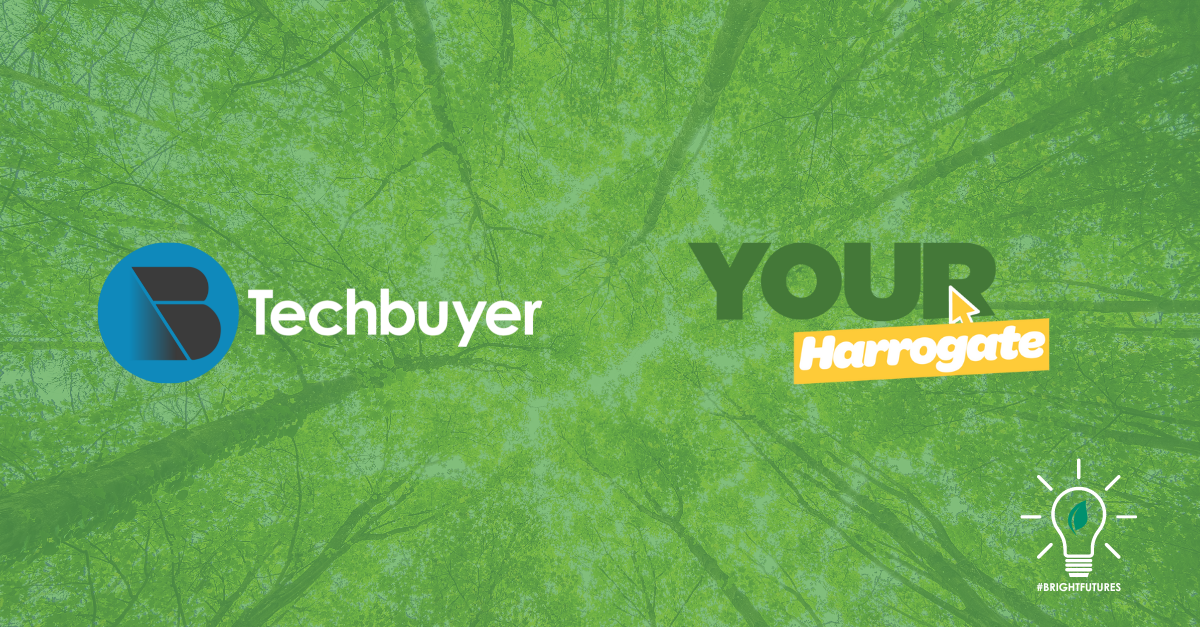 Sustainable C
areers Lead to Bright Futures
Listen to our marketing manager, Sarah Pearson-Wood speaking live from the Your Harrogate Recruitment Fair about who Techbuyer is and what a sustainable career really looks like within our company.
What does Sustainability Mean to the Techbuyer Team?
We wanted to find out so we invited the Your Harrogate Radio team in to discuss. Hear what sustainability means to UK Operations Executive, Grace Stanford...
Tech Amnesty – 30th September
We are hosting our first ever Tech Amnesty broadcast event where members of our local community can see first-hand how we responsibly dispose of their redundant IT equipment.
An estimated 57 million tonnes of e-waste were produced globally in 2021. Responsible IT disposal is the only way to help reduce this shocking figure.
Tune into Your Harrogate Radio on Friday 30th September between 10 am – 2 pm to hear from our sustainable IT disposal experts and learn more about Techbuyer's IT Asset Disposal service. Find out more here.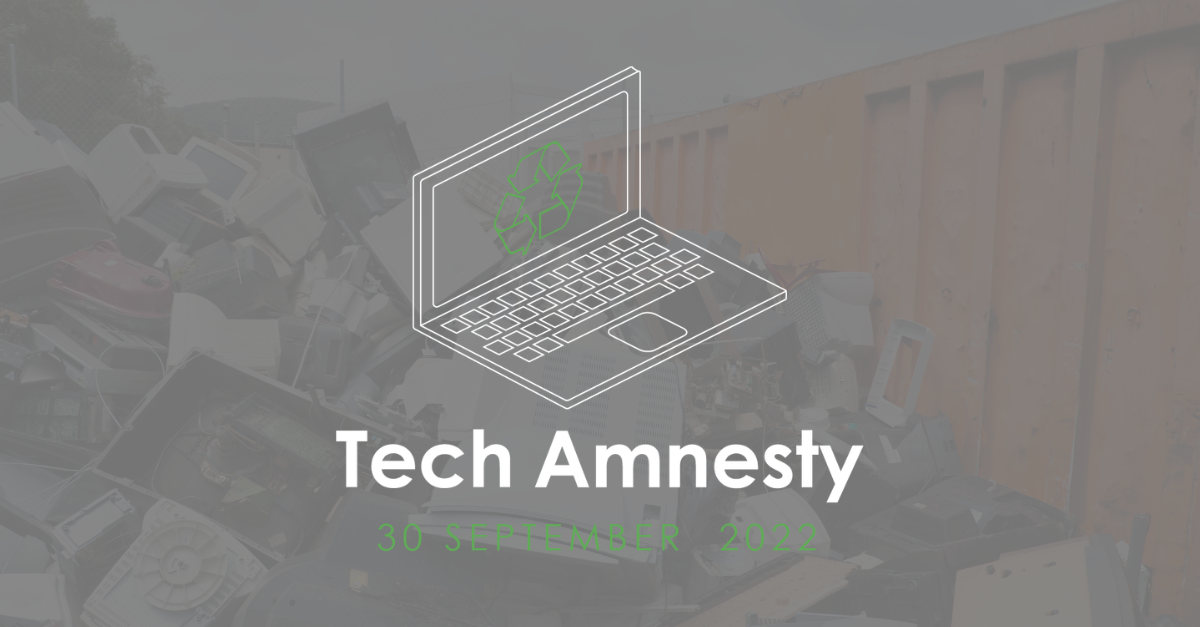 Who is Techbuyer?
Techbuyer is a leading global supplier of sustainable IT solutions based in Harrogate.
Formed in 2005, we have endeavoured to promote sustainability and the circular economy within the IT industry. Primarily, we help businesses maximise their IT budgets by supplying cost-effective new and quality refurbished IT equipment from over 150 brands. We also offer a range of sustainable IT services to individuals and organisations.
We are on a mission to help people understand the detrimental impact that technology can have on the environment...
57m
tonnes of e-waste was produced in 2021
17%
of this e-waste was recycled sustainably
83%
went to landfill sites
74%
of Brits admit to throwing electronic devices into regular bins set for landfill
What You do with Your Used Tech Matters…
E-waste (electronic waste) refers to any electronic item that is no longer in use. The most common sources of e-waste are:
The Impact:
We often think that when we throw something away it magically disappears. This is not the case, our e-waste is often exported to landfill sites across the globe including Mexico, Brazil, Ghana, Nigeria, India and China.
Water Pollution
This e-waste often contains toxic chemicals including lead, mercury and cadmium, which seep into the ground.
These chemicals then seep into groundwater and pollute nearby lakes and rivers. This can have a devastating impact on plants, animals and nearby communities.
Air Pollution
Contamination of the air occurs when e-waste is informally disposed of. Dust particles and toxins that cause air pollution are released, endangering animal species Increasing the risk of respiratory diseases in humans causing irreversible damage to eco-systems.
---
How YOU Can Make a Difference...
Wondering what you can do to improve the environmental impact of your technology at home? Here are four things you can do RIGHT NOW!
Why WiFi? Here's why…
It's much better for the environment, that's why! In fact using your mobile data can be as much as 300% less energy efficient!
---
Even emails have an effect on the environment…
A standard email generates 4g of carbon dioxide and an email with numerous and long attachments generates 50g!
So regularly emptying your recycle bin can really make a difference!
---
Here's a perfect excuse for keeping your cameras 'off'…
Just one hour of video conferencing emits up to 1,000 grams of carbon dioxide. Leaving your camera off during a web call can reduce this by 96%! So whilst we know it's nice to see each other from time to time, turning off your webcam really is better for the environment…
---
Better for the planet, better for your wallet…
As a leading reseller of refurbished tech, you'd expect us to say this, but buying refurbished really makes a difference. An average laptop requires about 300kg of carbon and 190,000 litres of water to manufacture, when you buy refurbished it eliminates this process.
Individual Impact
Our Research and Sustainability director Rich Kenny recently sat down with Nick Hancock from Your Harrogate Radio to discuss the impact of personal decisions around data use on the environment and what we all can do to make a positive impact.
Read more about how YOU can contribute to a more sustainable planet…
Business Impact
When it comes to creating a sustainable future, businesses of all sizes can play an integral role. Hear from our Group Sales Director Josh Kidd and our Product Sales Director Ollie Charlton on how businesses can contribute to positive change.
For more information on 'Sustainability and Business' read our blogs below…

ITAD: What it is and what are the benefits?

Breaking stereotypes on refurbished technology
In Conversation with Techbuyer | A Podcast Series in Collaboration with the Leaders Council
Listen as Techbuyer Group CEO, Kevin Towers shares in an exclusive podcast how Techbuyer got started, how we got to where we are today, and what the future looks like for the sustainable technology industry.
Tune in to episode two of our Leaders Council podcast series to hear Techbuyer's Sustainability Lead and Chartered Environmentalist, Astrid Wynne, discuss what it takes to become a sustainable business.
Find out more about innovation from our Sustainability and Research Director, Richard Kenny. Rich explores how a business can embrace innovation and how people are the driving force behind developing ideas.
Sustainable Careers

At Techbuyer we believe that sustainable careers lead to Bright Futures. Listen to our Global HR Director, Emily Shorrock, speaking about what sustainable careers really look like...
For more information on 'Sustainable Careers' read our blogs below…
---
"It starts with an understanding of the cost of decisions you make, whether that's consumption or data. But small decisions on an individual level can have a macro-effect for our entire planet."
Rich Kenny, Sustainability and Research Director
Want to Know More? Download Our 'Zines' Below…
We have a commitment to our community and to the next generation. We will continue to invest our time and resources into providing sustainability and education initiatives that will help to create a brighter future for everyone.
Later in September our sustainability experts are running a workshop on sustainable technology with nearly 100 schoolchildren at the National Museum of Computing. We would love to come and speak about sustainability and technology at your School/College/Event. Get in touch at marketing@techbuyer.com. Find out what topics we are covering by downloading our 'zines' below...
Every device has a visible price and a hidden cost. Did you know that between 75%-85% of a laptop's carbon footprint is generated in the manufacturing process?
Find out more about the impact of what we buy can have on the environment here.
Learn More About how You Can Make an Impact…
We're All Part of the Solution…
The following pages give some ideas on how we can all make an impact!
Sustainability and Business
What does a sustainable business look like?
With Sustainability Lead Astrid Wynne
Tune in to episode two of our Leaders Council podcast series to hear Techbuyer's Sustainability Lead and Charered Environmentalist, Astrid Wynne, discuss what it takes to become a sustainable business.
How your organisation can provide value across the triple bottom line...
What does the Future Hold For Your Business?
One business challenge every company has to face is the future, but being prepared for this challenge is essential for continued business growth adn development. Find out more about futureproofing your company below:
Part One: People

Part Two: Planet
Part Three: Profit
Secure and sustainable IT disposal.
We want to tell you about the most secure and sustainable method to dispose of IT equipment on an organisational scale.
IT Asset Disposition (ITAD) aims to achive three main goals:

Transport
Collect and transport your IT assets to a secure facility under 24-hour surveillance.

Sanitise
Sanitise all data bearing assets using industry leading data sanitisation software.

Repurpose
Repurpose all funtional IT equipment to extend it's lifespan and prevent e-waste.
Techbuyer and Sustainable Careers
Learn More about Sustainability and the Circular Economy