There is no doubt that a sustainability revolution is underway and it is a revolution that has the potential to fundamentally change, for the better, the way we think and operate on an environmental, commercial and societal level. At Techbuyer, we are fully committed to the promotion and expansion of this development which, if enough people embrace it, could become a 'Circular Economy Revolution' and ensure a sustainable future for all. It cannot come too soon.

The primary structure humanity currently operates is based on a 'take-make-waste' model in which we mine for materials, we make, we use and we dispose. This approach is termed the linear economy. The ecological disadvantage of the linear way of doing things is that the production of most goods is harmful to our environment and we are quickly running out of the virgin resources we have available. It increasingly puts at risk and damages essential ecosystem resources, such as water, air and soil. Critical raw materials (CRMs) are turned into goods that are then sold, used and discarded as waste, usually ending up in landfill. Techbuyer, along with other environmentally aware players, believes the linear approach is no longer fit for purpose.

According to the World Economic Forum, "[The circular economy] replaces the end-of-life concept with restoration, shifts towards the use of renewable energy, eliminates the use of toxic chemicals, which impair reuse and return to the biosphere, and aims for the elimination of waste through the superior design of materials, products, systems, and business models." Read more here.

The driving force behind the circular revolution is the realisation and acceptance of the fact that the negative environmental aspect of the linear model is unsustainable, and we must evolve away from it. The increasing damage being done is clearly illustrated by the annual Earth Overshoot Day announcement, which is hosted and calculated by Global Footprint Network, an international research organisation that provides decision-makers with a menu of tools to help the human economy operate within Earth's ecological limits. Earth Overshoot Day marks the date when humanity's demand for ecological resources and services in a given year exceeds what Earth can regenerate in that year. This year that day fell on July 28. On a country level, the UK date was May 19 and for the US/Canada the date was March 13.

In short, we are using more 'planets' than we have and the Earth cannot support the linear 'take-make-waste' model much longer. Unless we move away from it and embrace the circular approach, there will be irreversible damage done to our environment that will render it unable to support life as we know it in the not too distant future. That is why Techbuyer fully supports and works towards the development and implementation of the circular model in place of the linear one.

What is a Circular Economy?

A circular economy is one in which waste and pollution is reduced by refurbishing, repairing, reusing, recycling and sharing (such as tool banks, car-sharing etc) what we have so that products and materials stay in use for much longer. The Ellen McArthur Foundation defines it as "a system which is regenerative by design". A global circular economy also promises significant commercial and societal benefits as well as better enabling us to protect the environment and alleviate the growing climate crisis.

When adopting the circular approach, businesses aim to restore and protect the environment through altering their manufacturing processes to a more sustainable method. By reusing materials from disposed of goods and products, companies significantly divert waste away from the landfill while at the same time reducing material costs. This evolution is paramount if the world is to avoid environmental meltdown and, alongside that, commercial and societal catastrophe.

All in all, a circular economy yields significant benefits to the agriculture, domestic and industrial sectors of our society. At the same time, it tackles major global issues of biodiversity loss, resource scarcity, global warming and pollution through a carbon-free approach to production and the restoration of the ecosystem.

What is a Circular Economy in Business?

According to the Ellen Macarthur Foundation, "there are two fundamental cycles – the technical cycle and the biological cycle. In the technical cycle, products are reused, repaired, remanufactured, and recycled. In the biological cycle, biodegradable materials are returned to the earth through processes like composting and anaerobic digestion."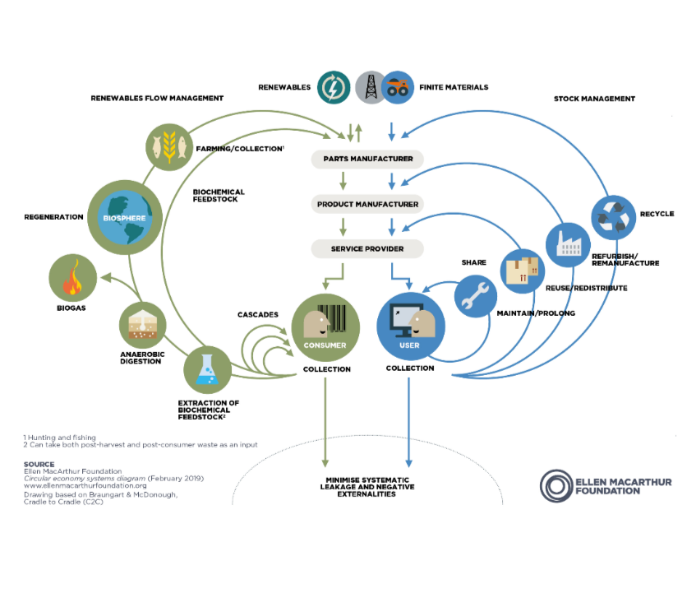 Businesses can power the evolution to a circular model of operating, one which will provide the tools to tackle global challenges and the ability to create resilience and grow prosperity. Collaboration with suppliers, customers and infrastructure is the only way to build a system which benefits business and the whole of society.

A circular economy business model places a particular emphasis on closing the loop in the linear economy, so that the inherent value in products and goods is maximised. Offering new commercial opportunities, a circular economy business model can also contribute to business growth and sustainability while simultaneously promoting and reinforcing a positive business reputation, thus creating an improved public perception of the brand.

The adoption of a circular economy offers considerable economic benefits; the Department for Environment, Food & Rural Affairs (Defra) calculates that UK businesses could benefit by up to £23 billion per year through low cost or no cost improvements in the efficient use of resources, while McKinsey estimates that the global value of resource efficiency could eventually reach $3.7 trillion per year.


Key Elements of the Circular Approach for Business

A core principle of a circular business model is that products should be designed to last, with component parts or materials that can be used again.

In addition, refurbishment, as Techbuyer specialises in, is a crucial part of creating a circular way of operating. Extending the lifespan of technology is one of Techbuyer's services and it is an important process to consider for your company's IT system, as well as for personal device use. Not only is IT product lifespan extension a key aspect of the creation of a circular IT economy, but it is also a cost-effective solution for your company's IT needs and maximises your technology budget. Techbuyer offers an extensive range of refurbished tech that also comes with an industry leading three-year warranty.

Repairing IT equipment, meanwhile, enables you to keep the same device for extended periods of time by repairing any damage that your technology may sustain. In a society in which we are encouraged to replace our IT and replace it often by technology manufacturers, this is becoming increasingly important. Techbuyer's IT Repairs IPC 610 certified team can repair damaged hardware from over 150 brands and restore performance and user experience to as well as new. Once we have repaired your IT hardware, we test every component and provide full certification along with a three-year warranty.

Alongside that, maintenance is an important way of keeping products in good condition and guards against failure or decline. Maintenance is not limited to taking a car for a service, or shoring up your home against the elements, it can be applied to most products that suffer wear and tear including tech equipment.

Upgrading existing equipment also fits in the circular IT economy model and keeps technology working for longer. Component level upgrades involve replacing computer or server parts to restore performance to as good as, or better than new. This process adds years to the lifespan of a device.

Reusing materials is another element of the circular approach. Reuse business models are becoming more common, notably in packaging. For instance, reusable packaging is one of the most effective ways of tackling packaging waste, especially plastic, and is being adopted by businesses across industries. Find out more about our sustainable packaging solutions here.

The circular model also includes offering a financial or other incentive for the return of 'used' products that can then be refurbished and re-sold. With a decommissioning service such as ours used IT equipment can be purchased, repaired, upgraded and moved on, extending the life span of the product.

Hiring or leasing of equipment as an alternative to buying them is a further element of a circular economy. Rental and leasing services are available and offer high-performance IT equipment at competitive prices without committing to any purchase.

Another component of the circular approach is remanufacturing, that is the re-engineering of products and components to as-new condition with the same, or improved, level of performance as newly produced ones. Remanufactured items also usually come with a warranty the same as, or better than, the ones provided for newly manufactured products.

Lastly, recycling is a last resort in the circular economy model and the question is, can we do better? It is a final solution because the embedded value of a product – in other words the time and energy invested in making it – is lost. IT recycling, in its current form, is also not able to recover 100% of the materials from a device and much of the composition of IT hardware is lost in the process. It marks the end of life for a device rather than looking to keep the full piece of equipment in use and keeping materials within the economy.

To be really sustainable with technology in a circular economy, the whole lifespan of equipment must be considered and Techbuyer's lifecycle services offer the optimum resource to enable companies to confidently address the issue. Find out more about our services here.

The Circular Economy Revolution - the Road Ahead

Technology can be a primary driver of the shift to a circular model by providing benefits such as the optimisation of resources, reducing the consumption of raw materials, and recovering waste by recycling or giving goods a second life as refurbished products - as Techbuyer does alongside its new equipment offerings.

A circular economy business model places a particular emphasis on closing the loop in the linear economy, so that the inherent value in products and goods is maximised. For instance, repurposing, or upgrading, older technology can not only save money, it can also attract more customers as a growing number of consumers each year are becoming more environmentally conscious of the equipment they purchase.

Offering new commercial opportunities, a circular approach can contribute to business growth and sustainability while simultaneously reinforcing positive business reputation, thus creating a better brand recognition.

What we need is systemic change, so that sustainability doesn't only depend on consumer choices.

There is also a clear economic case for the creation of a circular IT way of doing business. The machines that make up the sector have high upfront costs and are made from valuable materials, which is why an increasing number of businesses are successfully using circular models where they take the product to a company such as Techbuyer to be refurbished, upgraded, repaired or the materials recovered and repurposed. The key for industry will be scaling this model and extending it to a far wider range of consumer-facing products.

There is much to be done on the policy side to push circularity at the systems level. For instance, putting in place requirements to use secondary or recycled materials would help, perhaps incentivised by, for example, placing taxes on products that use only virgin materials.

The success or failure of the Circular Economy Revolution will always depend heavily on the receptivity of business and government leaders, their commitment to sustainable business values, and the willingness of managers at every organisational level to evolve and adapt.

As more governments introduce policies that encourage refurbishment, repair, reuse and responsible recycling, and as consumer awareness around sustainability continues to grow, at Techbuyer, we believe that creating an overarching circular model is going to become a commercial necessity as well as an environmental one. It is a daunting challenge, but it is one we must overcome. The reward - a world where people, nature and economies can all thrive - will be worth it.

Here at Techbuyer, we can help YOU become part of the Circular Economy Revolution that we believe is essential for a sustainable future.