Our Techbuyer and Ortial teams have been voluntarily signing up to run the Great Knaresborough Bed Race for years now. Enduring weeks of blood, sweat and river water inhalation to make their Techbuyer family proud....and provide us with some priceless entertainment. 
And after a long and gruelling two years, they made quite a triumphant comeback!
By breaking records on and off the bed – our hard work and community spirit shone through on the first Great Knaresborough Bed Race out of the pandemic.
Techbuyer also proudly sponsored the Great Knaresborough Bed Race this year and was in full support of this year's theme to Reduce, Reuse and Recycle!
Our Eco-Bike's Slipstream A
llowed U
s 3
rd
Place
We were inspired by this year's theme to build a bed that would not only reflect our mission, to reduce the environmental impact of the IT industry, and in particular the e-waste generated from improper IT disposal. We also wanted to celebrate the beauty of our home region by recreating the Knaresborough viaduct using motherboards, CPU's, RAM and all sorts of IT hardware.
This is where our idea of reusing our UCI eco-bike to spread the message of our sustainable mission - we hope others will be inspired to follow in our sustainable slipstream. We aim to inspire individuals and businesses to think twice before sending their out-of-use tech to landfill or even to be recycled when it can be refurbished and reused with great effect.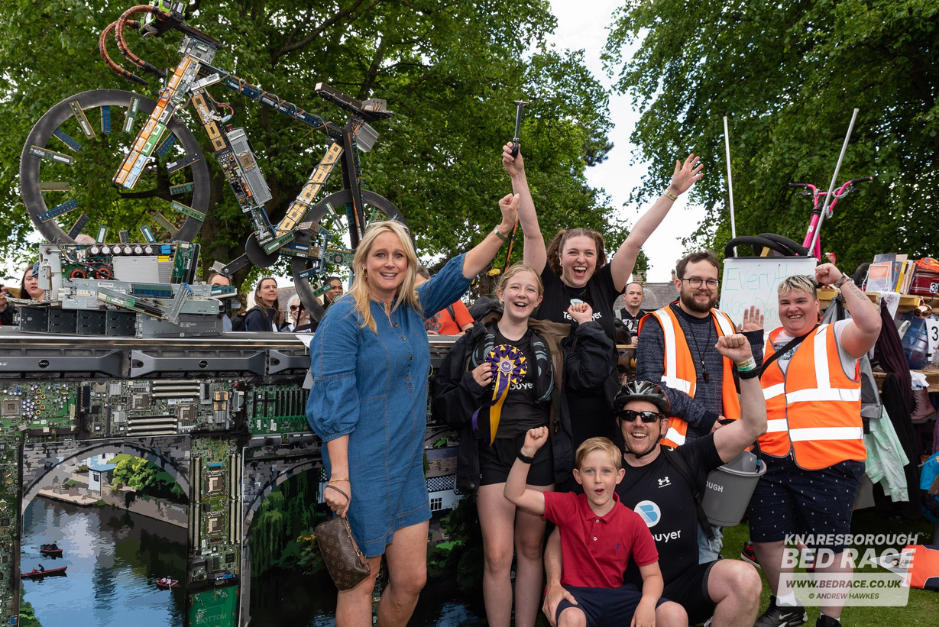 Our unique community based, eco-bed, made from nearly 1,500 redundant IT parts depicting our IT bike sculpture riding over the Knaresborough viaduct impressed not only the visitors on the day but also the jury – gaining us a 3rd place prize for the 'Best Dressed Bed' out of an impressive 86 beds! Our first prize in six years of Bed Races.
Techbuyer's Marketing Director, Helen Blakely was recently interviewed by Your Harrogate Radio about our sponsorship and attendance of the Great Knaresborough Bed Race. In this interview she stated:
"We are proud to be able to get involved and support such important community event. This year's theme of 'The Environment: Reduce, Reuse and Recycle' has inspired us to share a message of sustainability that we have been advocating since the beginning. We have been working around the clock to decorate a bed that would reflect our core values and our involvement with the local community. And without giving too much away, we look forward to seeing all join in our slipstream."
Breaking records
Our runners broke their own record on the day; after weeks of training, injuries, and mental conditioning, our team of runners beat their previous PB of 17:55 by making it to the finish line in a new Techbuyer record of 16:03!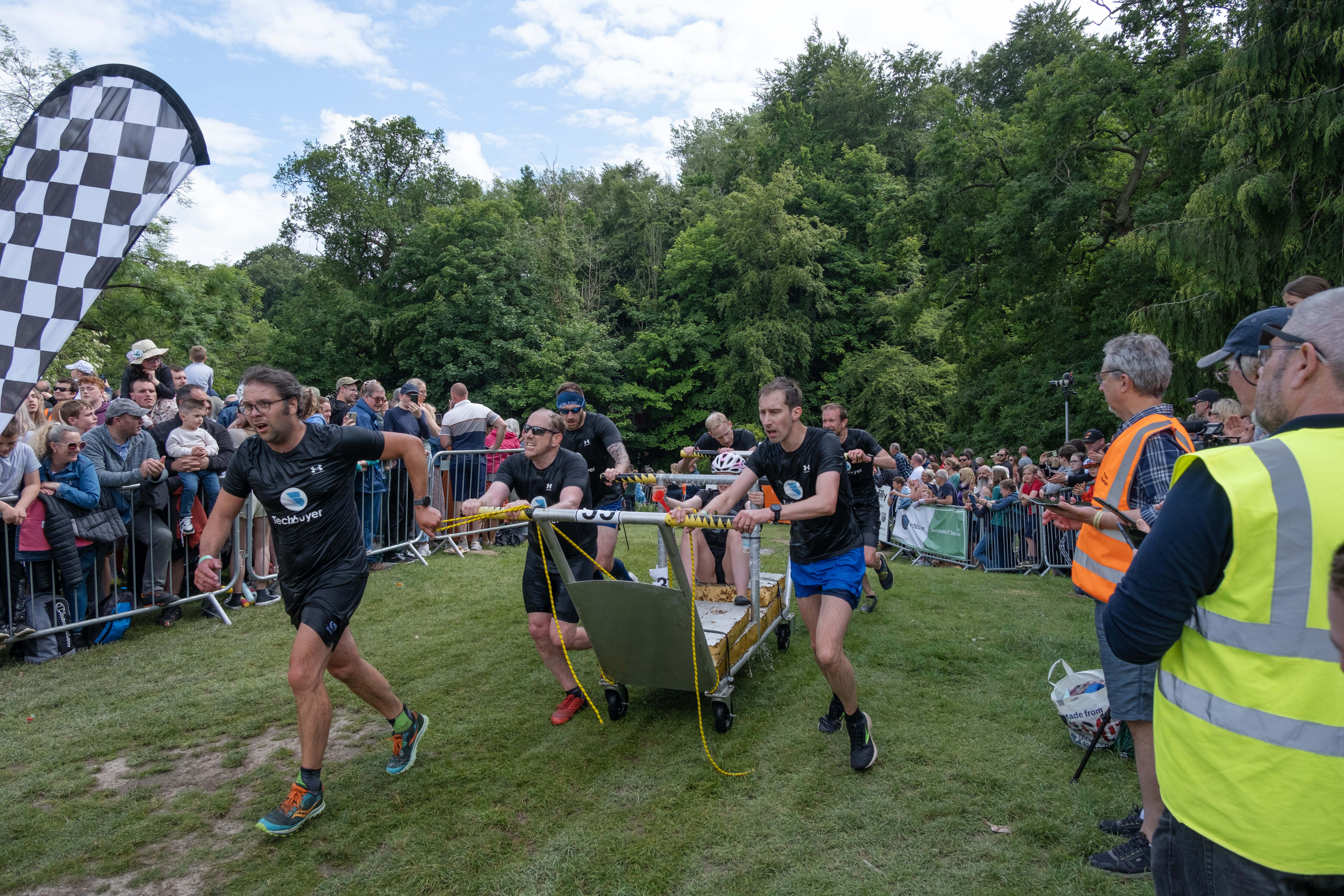 If the past two years have taught us anything, it's that we must look after our community and the ones we care about. Our Techbuyer family and their loved ones have been heavily affected by cancer in the past few years. And so, this year, we saw it only fitting to choose a charity that means so much to our team and the ones we care about. We are therefore supporting Cancer Research UK. – To donate to this fantastic cause, head over to our Justgiving page
We look forward to once again raising up to the challenge in 2023!