Suppliers of Industry-leading IT Solutions to Trade Clients
Techbuyer is a global provider of new and refurbished IT solutions. As a specialist in server, storage and networking equipment, laptops, workstations and PCs, we have helped thousands of trade organisations to maximise their clients' budgets.
Our mission is to provide excellent IT performance and unparalleled customer service, whilst also keeping quality technology in use. We provide a wide range of support including buying back used IT equipment, carrying out component level upgrades, repairs, and secure data destruction.
With seven state-of-the-art facilities across Europe, the US and Asia Pacific, we have a huge global inventory, and regularly ship to over 100 countries. Our stock is held in multiple locations globally, meaning we can guarantee to find the right solution for you or your customer.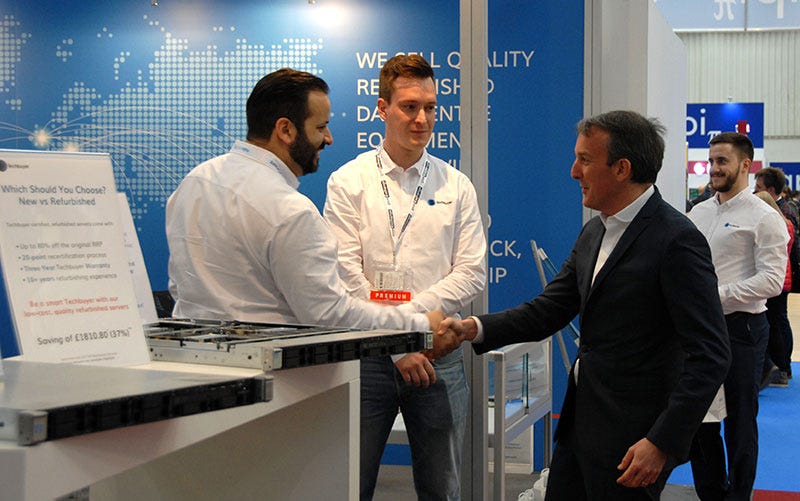 Buy New or Refurbished IT Equipment
Whether you or your client are looking to upgrade your existing infrastructure, perform large scale IT refreshes or rent data centre equipment for a project, we stock an extensive range of IT equipment from over 150 brands, including HPE, Dell, Cisco and IBM.
As a global refurbishment specialist, we adhere to the highest security standards in the tech industry and fully test all IT hardware. Our refurbished IT equipment enables significant cost savings, provides the same performance as new, and comes with flexible 1-2  year warranties for ultimate peace of mind.
Sign up for a trade account today!
Fill in our Credit Application form and become a trade customer.
Flexible warranties on all products
We have over £10 million worth of IT systems and components in our global stock across Europe, the US and Asia Pacific at all times. Rather than experiencing long manufacture waiting times, our immediate supply means we can get a range of IT systems and components to you as soon as the same or next day.
With over 150 brands including HPE, Dell and IBM in stock, you can also benefit from our unbiased recommendations and advice.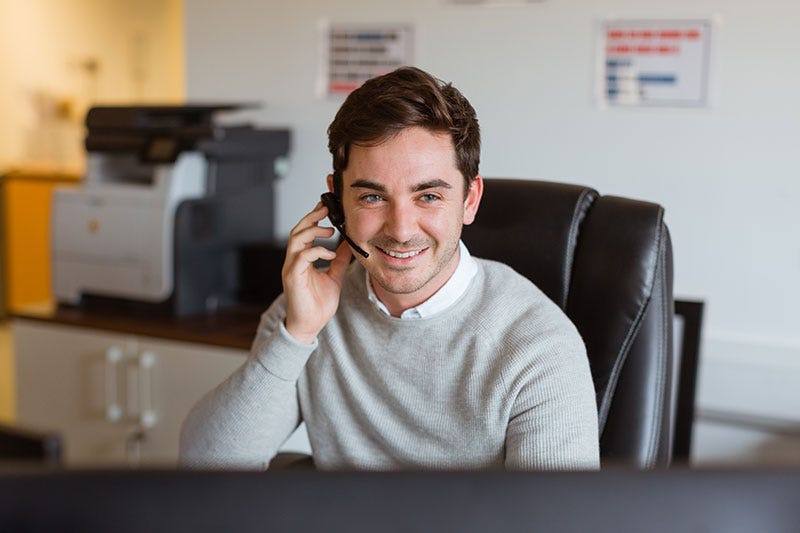 Dedicated account management
Every organisation that we work with is assigned a dedicated account manager, so that we can provide specific IT advice and support for your organisation or client's needs. With a team of over 180 IT specialists across key locations including the UK, France, Germany and the US, you are guaranteed to receive world-class support no matter where you are. What's more, our experienced team speaks multiple different languages!
Our IT specialists have decades of experience, and have formed relationships with suppliers, purchasers and manufacturers across the world. As a result, we provide industry-leading prices time and time again for our clients.
Also with our decommissioning service, we will buy back surplus IT equipment, offering the best market prices and trade-in values in exchange for your excess IT.
Delivered Same or Next-Day Worldwide!
In the case of downtime or system failure, we know that your customers need IT equipment quickly. That's why we provide a quote within minutes and have fast turnaround times, with delivery as soon as the very same day.
Every IT system and component that we supply comes in bespoke designed packaging to ensure that all goods arrive in pristine condition. We are trusted with thousands of blind shipments each year and have a secure chain of transport.
Same day delivery available (in the UK and Europe) for time-critical requirements
Anytime next day delivery
Extended cut off times (4:45pm International and 5:45pm in the UK) to allow for any last-minute orders
Blind shipments available
We buy back your used IT equipment
We don't just sell IT equipment – we also buy it. Instead of paying someone to take any used or excess IT equipment away, we can buy your client's devices for competitive prices. These devices are then securely data sanitised, tested, and remanufactured into quality refurbished IT solutions.
We buy over £3 million worth of IT hardware every month from a variety of trade organisations and businesses across the world, and provide secure collections and quick payments. For complete peace of mind, we supply full certification throughout.
Techbuyer's Reseller Services
As a refurbishment specialist, we can provide an entire IT hardware and software solution. From buying back used IT hardware, to performing SSD and RAM upgrades in existing laptops, and shipping fully configured servers, we offer a variety of secure, high quality services for you and your customers.
All our services can be white labelled. This means that you can advertise the best industry support to your clients, and we'll handle the rest.
Maximise IT Budgets with Secure IT Asset Disposition
We specialise in buying, selling and refurbishing IT equipment, and have helped thousands of organisations to dispose of their excess devices securely. This contributes to the circular economy by ensuring that useful technology is always reused wherever possible.
Security is our top priority, and we have over 15 years of experience protecting confidential data. We're one of the few organisations with an ADISA and R2 certification, which reflects our commitment to secure data erasure and on-site surveillance. We are also ISO 9001 (management), 14001 (environmental responsibility) and 27001 (security) accredited.
Techbuyer offers a 100% secure data sanitisation service, which destroys all company data on HDDs and SSDs. We use world-class software from White Canyon and Blancco, which adheres to the highest National Cyber Security standard and has a secure audit trail. Once all data has been destroyed, full certification is provided for complete peace of mind.
We also offer a destruction service. This can be done at our secure IT Asset Disposition (ITAD) facility, or at the client's location within our mobile shredding truck. This is a secure operation with GPS tracked transport, a secure chain of custody and asset certifications.
Our global team has instant access to an extensive range of IT solutions, including industry-leading servers from Dell, HPE, IBM and more. For clients with more specific data centre requirements, we also configure over 5,000 high quality servers a year, free of charge.
Our custom build service is available for a range of rackmount, blade and tower servers, and configures a number of compatible components including CPUs, RAM, PSUs and HDDs. We can build CTO servers with brand new parts, quality refurbished parts, or a mixture of the two (hybrid), with impressive savings available when choosing refurbished. We can also build CTO servers along with populated storage arrays, with the RAID pre-configured for easy installation.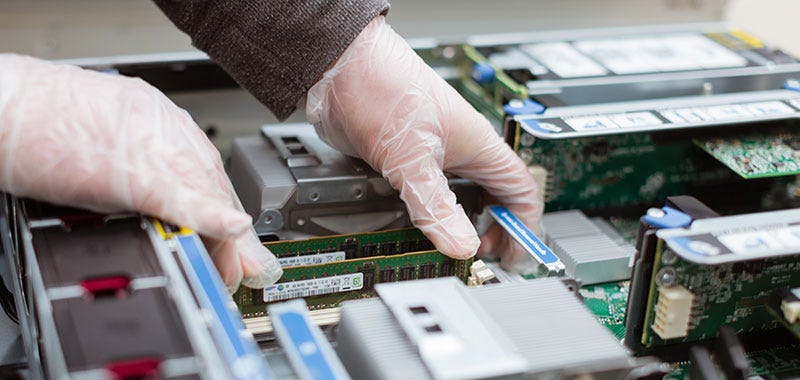 Laptops are useful for 6 to 7 years on average. However, most organisations stop using them after 3 years. At Techbuyer, we provide component level upgrades which enhance laptop and desktop performance and save money over time. This is the best way to get the most performance out of existing devices, whilst reducing unnecessary e-waste.
Our rentals and leasing service enables organisations to access the same equipment but with flexible contracts. Whether your clients need HDD upgrades, short-term remote working solutions or a longer payment schedule for a large-scale infrastructure project, we have flexible contracts to suit each individual case, and can prevent any upfront expenditure.
If your client is looking to replace damaged or missing components, we can first check to see if it needs internal cleaning or firmware updates. Our IPC 610 certified team can repair, replace and reprogram a variety of server, storage and networking equipment, PCs, workstations and laptops to enable IT performance which is as good as new.
Get in touch with the Trade Team
Call today to speak with a Trade Account manager and find out more about Techbuyer's Trade and Reseller services.