6 years after the release of Windows 10, Microsoft has introduced their next generation of software, Windows 11. This software was released earlier this year and introduced some great new features, including the ability to customise multiple desktops - e.g., one for work, one for personal use – integrated android apps and better virtual desktop support.
However, along with these new features comes some very specific system requirements, including the need for a TPM or Trusted Platform Module.
What is a Trusted Platform Module?
A TPM is a secure cryptoprocessor designed to protect your PC against malware and hackers; it is often considered a security alarm for your computer. Cryptographic keys are impossible for a hacker to modify unless they are known in advance and so is more secure than many software security measures.
A TPM chip communicates with other PC security systems, including fingerprint readers and facial recognition software, however, the programs you use can also utilise the TPM, such as Outlook, Firefox and Chrome.
Without a TPM, Windows 11 cannot run on your PC or laptop and so it is important to check whether this is a module installed in your computer to see if you're device can host this new software.
How to check if your PC has a TPM?
It is quick and easy to check if your PC or laptop has a TPM installed and so if it is compatible with Windows 11! Follow one of the two methods outlined below to check your Compatibility:
Open the start menu of your computer and search for windows security.
Click on device security.
If on the next window there is a ticked box next to the security processor, your device has a TPM.

Or
Type Run into the search bar and click on the Run option.
type in tpm.msc and hit enter
This will bring up the TPM Management window. If it says "Compatible TPM cannot be found" your device does not have a TPM or has TPM 1.2. Unfortunately, a TPM 2.0 is required for Windows 11.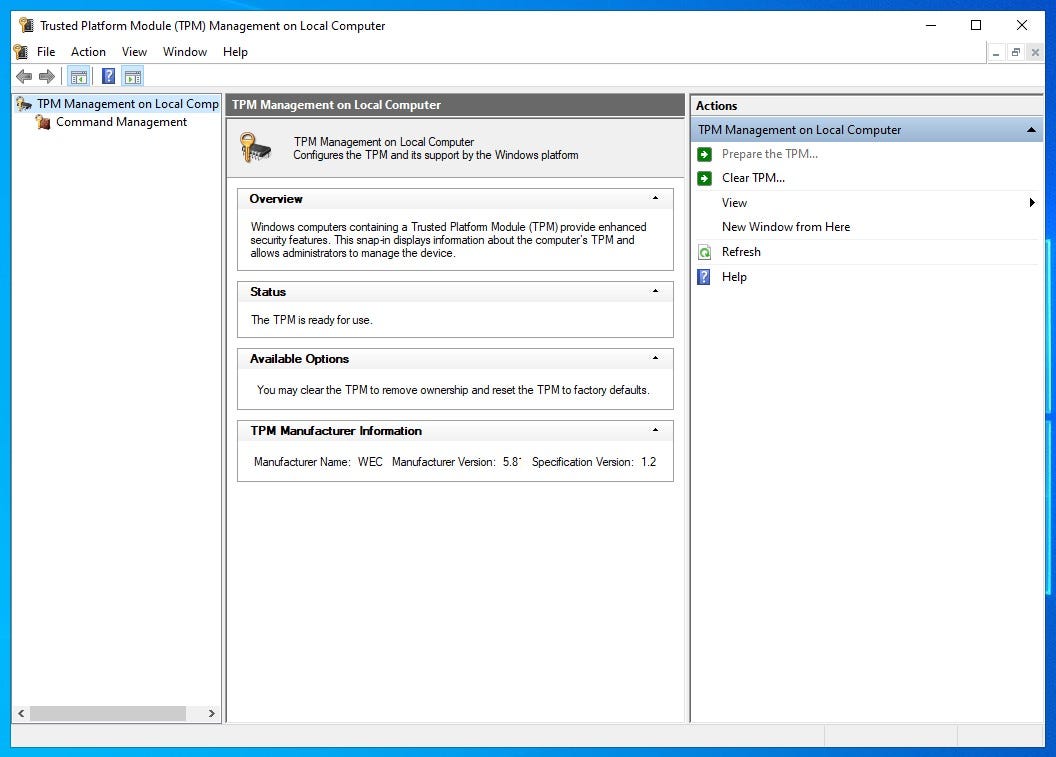 If your PC or laptop does not have a TPM of 2.0 it is not compatible with Windows 11. Most PCs manufactured in the last 5 years will be able to run a Trusted Platform Module version 2.0, however, in some cases, they are not set up to do so. Windows has put together a handy guide to help enable a TPM on computers that are capable.
If you are a PC user, there is the opportunity to install a TPM where you may not already have one. Search for the part number of your motherboard to see if a compatible Trusted Platform Module has been released.
If your computer doesn't have a TPM and there is no option to upgrade or install this module, it is worth considering selling your device whilst Windows 10 is still widely used and valued; once Windows 10 becomes obsolete, your computer will drastically drop in value!
Techbuyer's Refurbished Laptops and PCS
Techbuyer is a refurbished IT specialist with a global reach and sustainability at its core. We stock a range of high-quality, refurbished laptops and pcs that come with a three-year warranty and expert technical support. Our experienced team are on hand to offer advice and recommendations on any equipment in our range when and as you need it. Find out more about our computer range here or get in touch for any support.