Techbuyer Dictionary Definition
'refurbished'
adjective [ before "noun" ] /ˌriːˈfɜːbɪʃt/
to restore equipment to as new condition and issue manufacturer equivalent warranty, support and services according to a pre-defined set of processes [described below]
According to the Cambridge online dictionary, "used" describes something that has already been put to the purpose it was intended for, whereas "refurbished" means something that is repaired and cleaned "so that its condition is like new". Far be it from us to question the wisdom of one of our most respected universities, but we suggest that "refurbished" means quite a lot more than that, not least because not all equipment is broken. Here is our revised definition, with some background information on the processes that make up Techbuyer's ISO 9001, 14001, 27001 and 45001 certified refurbishment procedure for servers:
Inspected
Our well trained and experienced staff carry out close visual and physical inspection of the servers and components at every stage of the restoration process, including at the time the product is custom-packaged for delivery to the client.
Precision cleaned
Servers are stripped down to component parts before being air cleaned in an anti-static environment. This ensures every single IT part is performing optimally.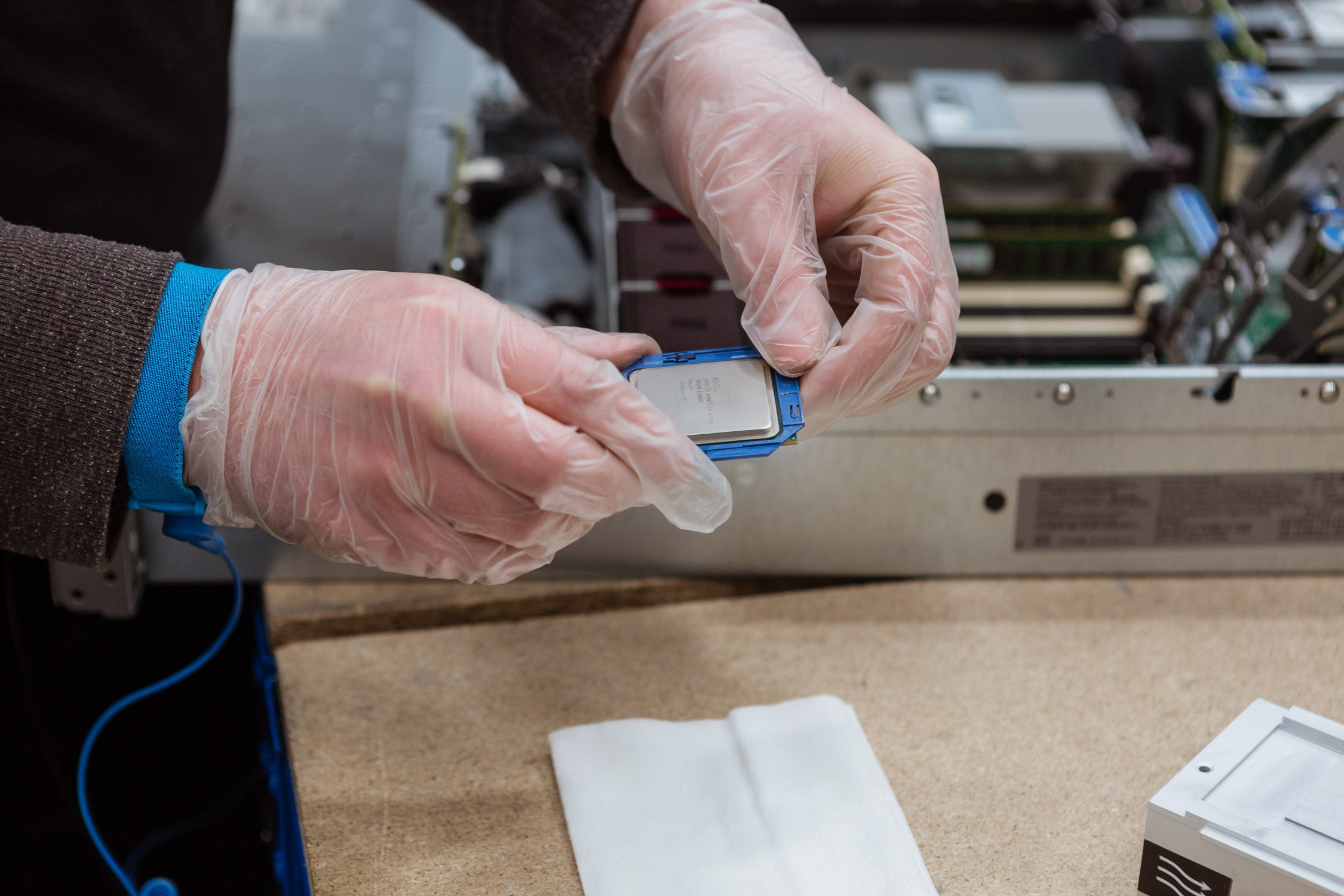 Performance tested
Comprehensive diagnostic tests are run on all servers that assess performance in terms of power usage, memory, network connection and data storage. Any IT parts that fail performance testing are removed and replaced with our onsite inventory of working components. We have over £10 million worth of servers, storage and networking equipment, laptops and desktops in stock, ready to ship.
Repaired
Dedicated technicians repair failed components if possible or deliver to our ethical recycling partners if they have reached their end of working life. This is a rare occurance - over 99% of our IT hardware is refurbished and we are proud to be a zero-to-landfill organisation.
Data erased and default configuration restored
Techbuyer data erases over 10,000 hard drives a month using industry-leading data erasure software from White Canyon and Blancco. Data is made completely unrecoverable using this method.
This is the same software used by the US Department of Defense and NASA. Factory settings are restored on all IT equipment.
Custom configured
Our Configure-to-Order service is the best way to design servers that fit your specific business needs. Our IT specialists work with you to find the optimum IT solutions, then configure your servers free of charge.
Our experienced technicans configure a range of new and quality refurbished rack, blade and tower servers from HPE, Dell, Intel, Cisco, Fujitsu and more. With immediate, global access to server configurations, options and upgrades, we test and configure over 5,000 servers every year.
In the UK, we also have a HPE server configuration tool. This enables you to choose the exact components needed for your refurbished HPE server in minutes.
Ready for use
Techbuyer's refurbished IT hardware is fully restored to factory conditions, ready to be put to use immediately. We are able to update firmware on selected parts and can install system software on request.
Supplied with warranty
All products delivered from us come with a three year warranty as standard and a lifetime warranty on request. This gives our customers peace of mind that they are receiving a quality product, which will be replaced in the unlikely event of failure.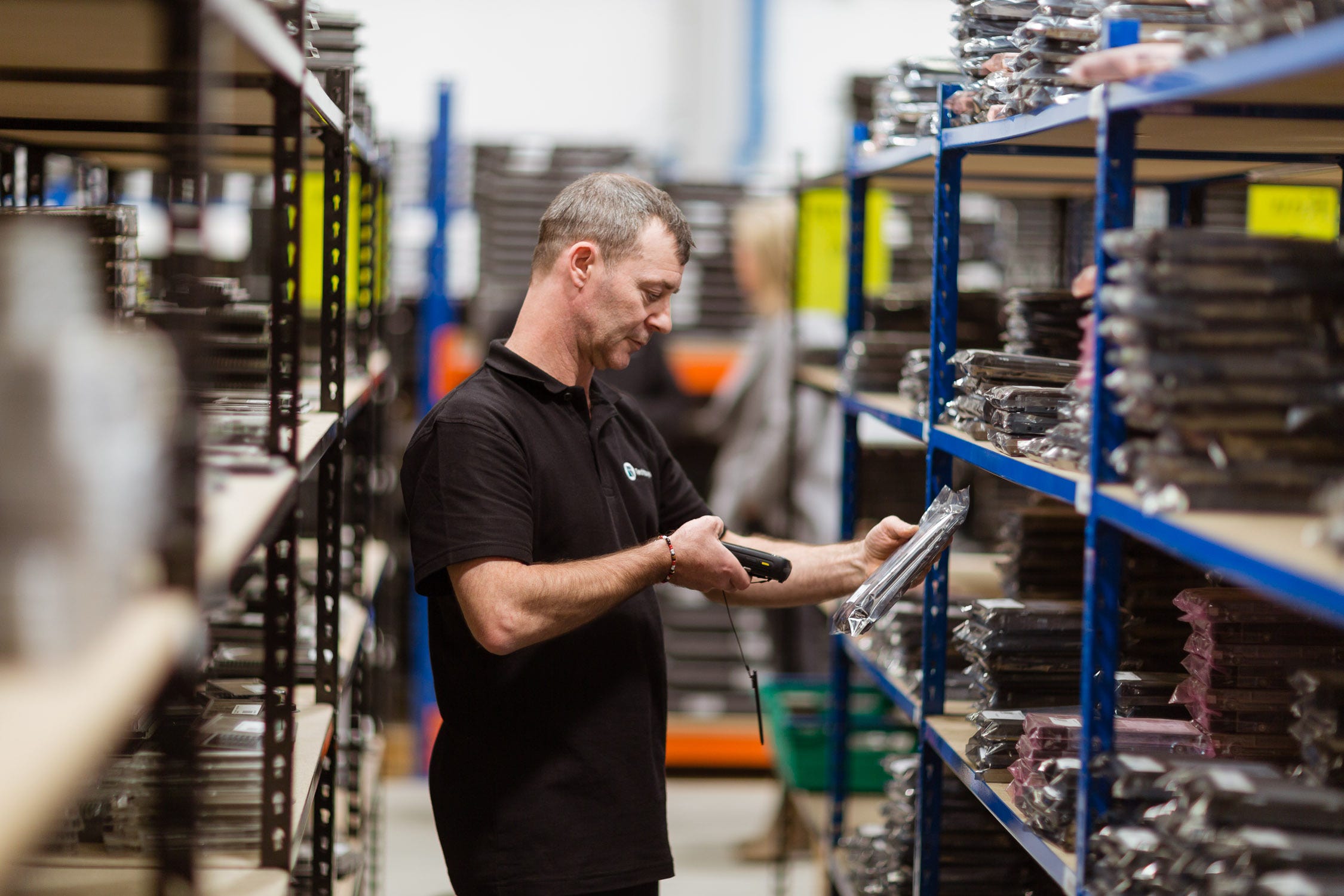 Supported
Not only do we replace all parts within warranty, we also offer install, rack and stack services in-house. In addition, we offer bespoke support services with defined Service Level Agreements (SLAs) on our customers' existing equipment as well as the equipment bought from us.
Custom packaged
All products that leave our engineering facilities do so in specially designed protective packaging, which ensures delivery in perfect condition. The majority of our orders are delivered within 24 hours of being placed.
Excellent customer service
Looking to choose refurbished IT equipment? Browse refurbished servers online today, or view our full selection of IT hardware on our site.
Our dedicated account managers have decades of experience and are here to support you, whether you're buying refurbished for the first time, are looking to sell your existing IT hardware, or want to rent IT equipment. Get in touch with us today for excellent support, prices and shipping.