Maximise uptime with Techbuyer's 24/7 onsite hardware maintenance services
Techbuyer provides a comprehensive range of IT maintenance services available across Europe
Our first-class support services include 24/7 maintenance fully tailored to your business needs. This is available at an affordable price point covering all tier one vendors including HPE, Dell and IBM plus leading storage vendors. Our support options ensure maximum uptime regardless of product or geographical location.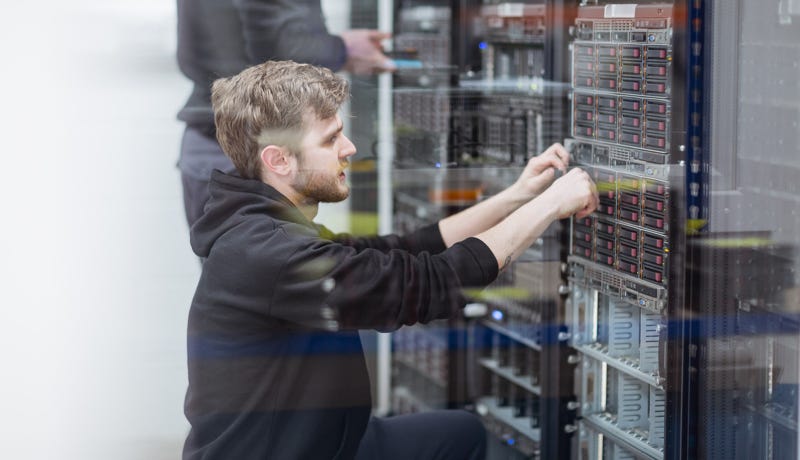 Choose the IT support service level to suit your unique business needs
All supported hardware receives access to technical support, hardware replacement and repair plus an onsite engineer where required. You can choose the optimum service level to suit your specific requirements.

We have two standard service options which can be fully customised:

• 24/7/365 - 4 Hour on-site engineer and part replacement
• 9-5 Next business day on-site engineer and part replacement

Contract lengths are fully customisable to suit your operational and budgetary requirements.
Techbuyer provides an unrivalled service due to the quality and expertise of our onsite engineers, combined with a comprehensive parts inventory to ensure SLA's are met and downtime is minimised. We also provide each customer with a dedicated account manager to manage the resolution of your issue.
Needing a one-off repair or health check service?
We can organise an adhoc engineer service without a support contract if and when necessary. Get your IT equipment repaired or checked by an expert engineer when disaster strikes, or run a vital health check to ensure that everything is working as it should. Get in touch to organise this with our team.
Why Choose IT Maintenance Support Services From Techbuyer
Highly qualified and certified engineers
Dedicated account manager
4 Hour or next day SLA's for onsite engineers and part replacement
Fraction of the cost of OEM equivalent
Full European coverage for multi-site organisations
Techbuyer provides a comprehensive portfolio of supported vendors with the most popular named below:
Why partner with Techbuyer?
Tailor-made IT support to suit your requirements
With a comprehensive parts inventory and on-site engineers
Across the whole of the UK, Ireland and mainland Europe
COMPETITIVE PRICING MODEL
To suit your service levels and budgetary requirements
ISO certifications prove our commitment to building excellent customer relationships and developing an environmentally sound supply chain whilst working to the highest security standards