The HP ProLiant BL460c Gen 8 Blade Server is the younger brother of the BL660c and offers a large step up from previous generations with an increase in performance, manageability and overall flexibility. Techbuyer has provided businesses with thousands of new and refurbished BL460c Blades over the years, so we thought it was about time we conducted a full review of this popular Server.
BL460c Gen 8 Overview
The HP ProLiant BL460c Gen 8 is a half-height Server Blade that weighs just over 6kg, measures 17.11 inches tall, 2.18 inches wide and 20.37 inches deep. For use of this Server, you will need a supported enclosure, such as HPE's BladeSystem c3000 6U chassis, which holds eight BL460c Gen 8 Servers plugged horizontally with a whopping 115.2 TB of storage. If the c3000 doesn't hold everything you need, you can use the monster HPE BladeSystem c7000 10U chassis enclosure which holds up to sixteen Blades plugged vertically. The c7000 is ideal for large data centres which require dense compute, network and storage resources in a single, highly reliable unit.
The front of the Blade features two small form factor hot swap drive bays and a HP c-Class Blade SUV (Serial, USB, VGA) connector. The BL460c Gen 8 supports the following operating systems or virtualisation software: Microsoft Windows Server, Red Hat Enterprise Linux, SUSE Linux Enterprise, Oracle Solaris, VMware and Citrix XenServer.
Limit downtime with the Intel Xeon E5-2600 family of processors
This dual socket Blade supports up to two Intel Xeon E5-2600 family processors, with an upgrade to the E5-2600 v2 series also available. These are of higher performance, are more efficient and adaptable with other Intel components (such as QuickPath Interconnect and Turbo Boost Technology). The Intel Xeon processors have up to 12 cores and 24 threads, which help deliver up to 24% higher performance. Designed for architecting next-generation data centres, the E5 family delivers versatility across diverse workloads in the data centre or cloud. Intel Virtualisation Technology enables one hardware platform to function as multiple "virtual" platforms. Intel VT offers improved manageability by limiting downtime and maintaining productivity and security by isolating computing activities into separate partitions. Hyper-threading technology can increase your system's performance by better utilising idle resources which results in greater throughput for certain important workloads.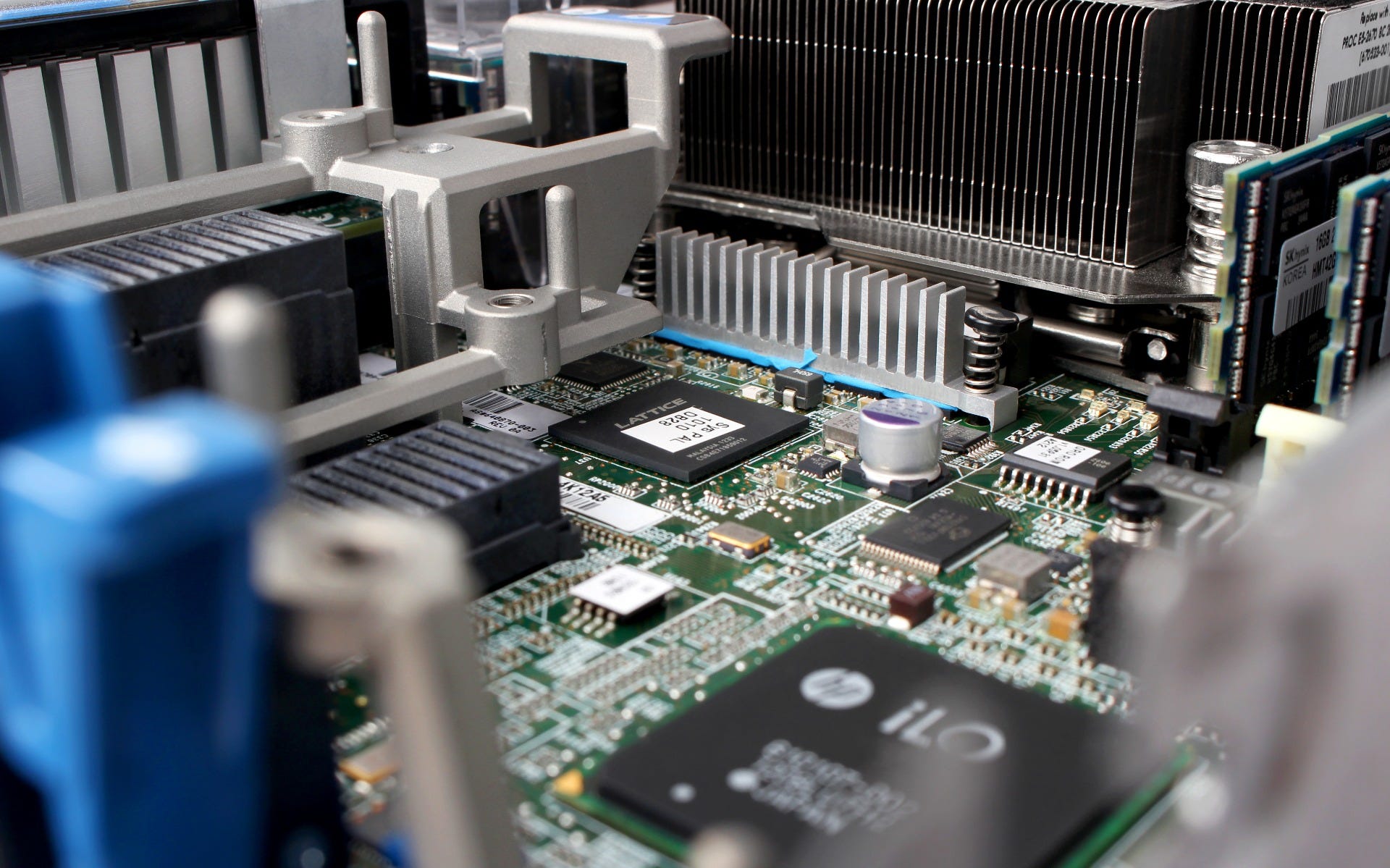 Intel C600 chipset supports DDR3 memory
The Intel C600 series chipset supports DDR3 LRDIMM, RDIMM or UDIMM memory. Memory protection includes Advanced ECC, Memory Online Spare Mode (Rank space mode) and Lockstep Mode. A 33% increase in DIMM support means increased performance but reduced power consumption. Equipped with 16 DIMM slots, the BL460c Gen 8 supports up to 512GB of LRDIMM, 384GB of RDIMM or up to 128GB of UDIMM.
The option to configure with 256 GB for RDIMMS is also available which enables the Server to operate at a lower power level whilst maintaining the same level of performance. HP SmartMemory is required to realise memory performance improvements and enhanced functionalities.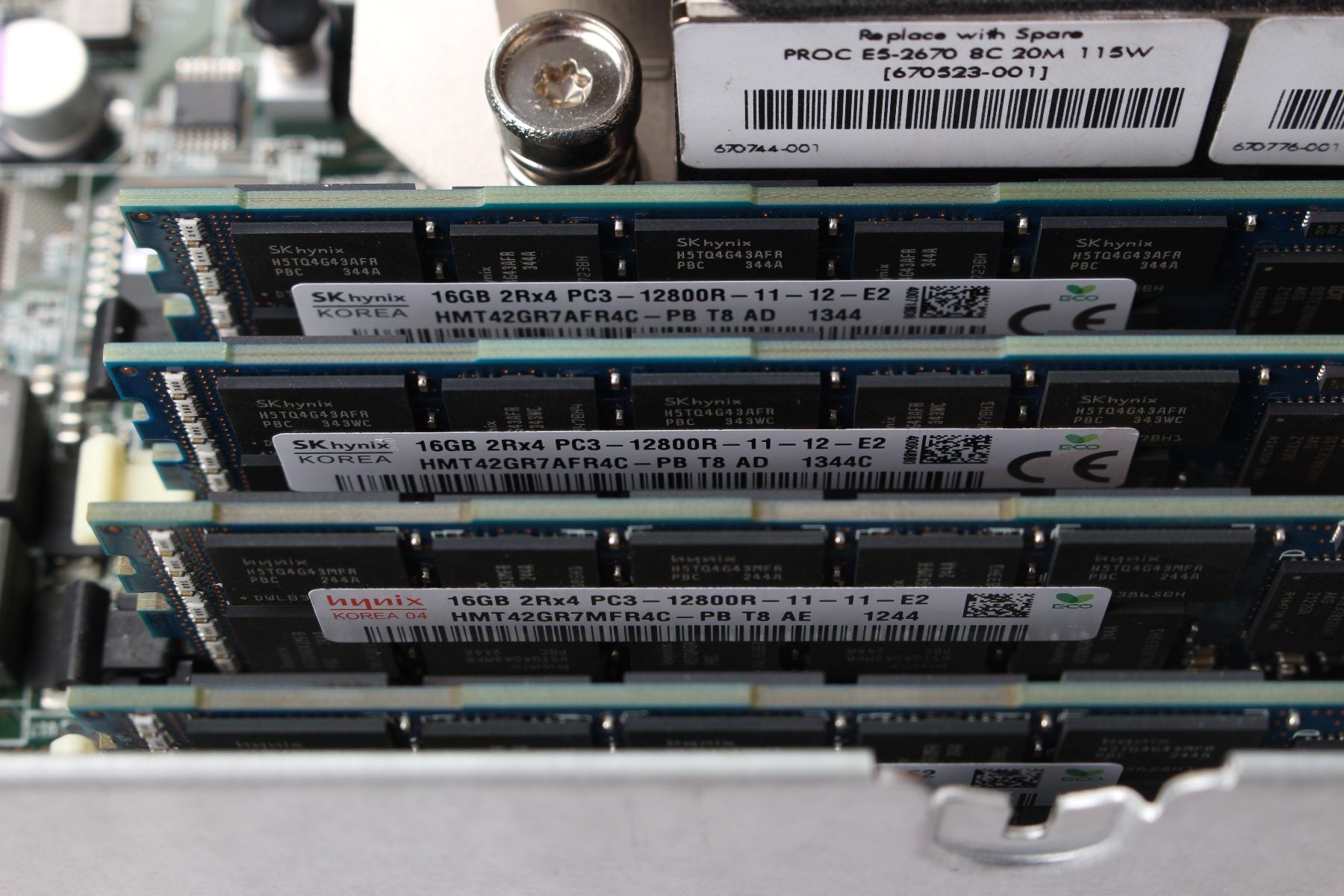 Extra storage options allow your Servers to grow with your business
The HP ProLiant BL460c Blade Server supports up to two small form factor (SFF) SATA or SAS, hard disk drives (HDD) or solid state drives (SSD). When using HDDs up to 4TB is supported, and SSD's can support up to 3.2TB. The mixing of standard SAS drives with SAS SSD drives is supported within the Server however, it will limit the RAID configuration to two separate RAID 0 volumes. Mixing of other drives types is not supported. The ProLiant BL460c Gen8 Server includes the new HP hot plug small form factor (SFF) SmartDrive carrier for enhanced management and reduced maintenance errors. It is worth noting that HP drives from previous generation Servers are not compatible with the HP ProLiant BL460c Gen8 drive bays.
An integrated HP Smart Array P220i Controller with 512MB FBWC supports RAID 0 and 1. If extra storage is required, there is the option to add a HP D2200sb Storage Blade for direct attachment of up to 12 drives to an adjacent Blade within the c-Class enclosure, making this a highly expandable Server.
Bottom Line
Data centres increasingly need more efficient Servers to handle their ever-increasing data processing requirements. It is clear to see that the HP ProLiant BL460c Gen 8 Blade Server is designed with this in mind and is an ideal building block for projects requiring multiple physical Servers such as storage or compute clustering. A 33% increase in DIMM support offers reduced power consumption whilst the Intel Xeon processors help deliver up to 24% higher performance. The ability to directly attach up to 12 drives to an adjacent Blade, makes this a highly expandable Server.
Find out more and configure your BL460c today
For detailed specification of the HP BL460c Gen 8 Blade Server, you can find the HP quick spec here. You can also speak to our dedicated account managers who are highly trained in HP Servers.
Techbuyer offers a free configure to order service. We will listen to your data centre requirements, quote a bespoke Server tailored to meet these needs and then build the Server for you, all completely free of charge. Three year warranty is included with all products from Techbuyer including our range of new and quality refurbished Servers.
Watch our case study video below! In just 48 hours we configured, tested and shipped 10 complete c7000 Blade enclosures including 128 BL460c Gen8 Blade Servers. All completely custom built by accredited Server technicians from start to finish to the customer's exact requirements, then shipped to a hosting company in Hong Kong.
Like what you see? Get involved and get in touch for a down to earth, stress-free service with massive savings!
Techbuyer is proud to be one of the foremost retailers of new and refurbished Servers in the world. We stock Servers from major brands such as HP, Dell and IBM all of which are stocked directly by us within our warehouses, so getting what you need couldn't be easier. Take a look at our full range of Servers or get in touch if you can't find what you're looking for.