Released in September 2014, the Dell PowerEdge R630 Gen 13 isn't exactly new, but we are seeing it flood through to the secondary market more recently as organisations migrate to the 14th Gen released in July 2017. Read our review of the R630 below.
The Dell PowerEdge R630 is a dual-socket 1U rack server offering higher performance, increased expandability and more storage options for latency-sensitive applications over previous generations of PowerEdge servers. Supporting E5-2600 v3/v4 processors and up to 24 DIMMs of high-capacity DDR4 memory, the R630 offers computing capability previously only seen in 2U servers and is perfect for data-intensive applications such as transactional databases and virtual infrastructures.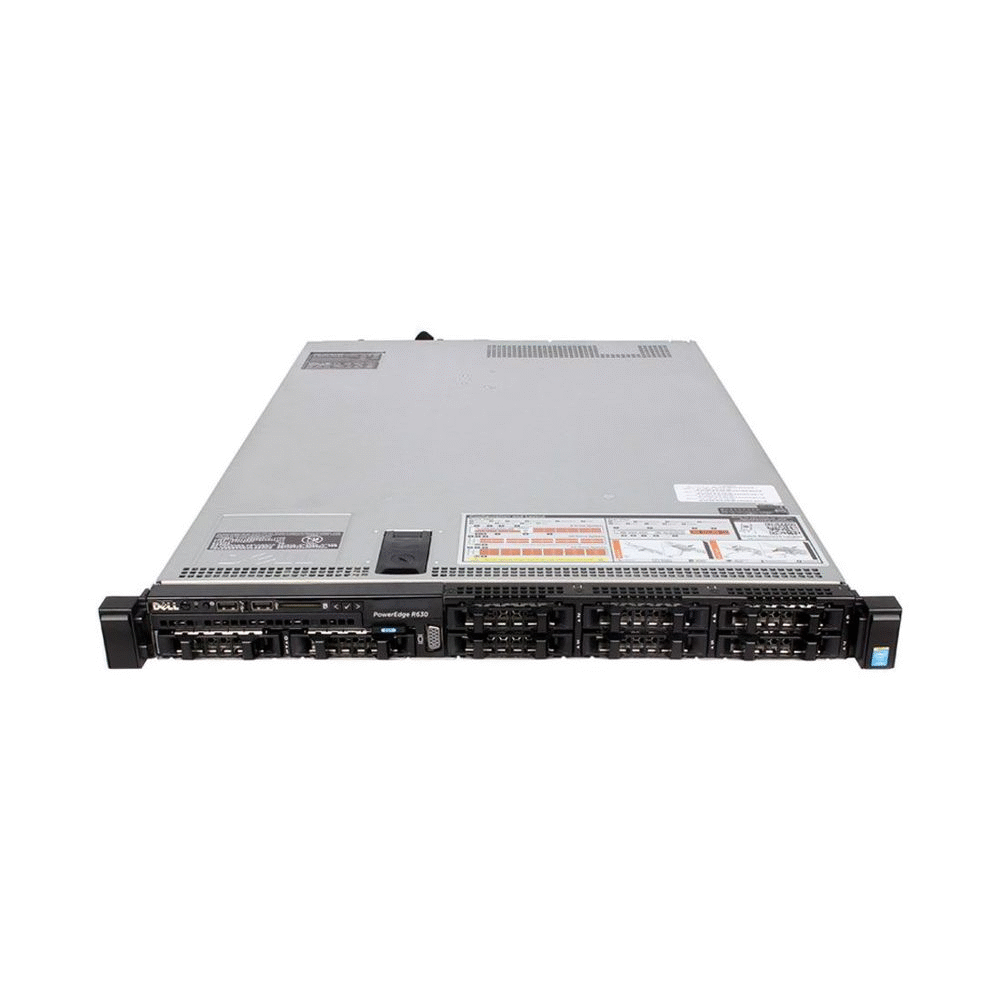 R630 Exterior
With the 8 x 2.5 inch drive configuration, the Dell R630 chassis is 4.28cm (1.68 inches) in height, 48.23cm (18.98 inches) wide and 70.05cm (25.57 inches) deep. With the 24 x 1.8 inch drive and the 10 x 2.5 inch drive configurations, the Dell R630's depth increases by just over 2 inches to 75.51 cm (29.72 inches).
Depending on the chassis configuration, the front of the R630 may feature a power on button, non-maskable, interrupt, system ID buttons, an LCD panel, 2 USB 2.0, iDRAC direct ports, an optical drive, video connector, optional quick sync and an iDRAC vFlash SD card slot which requires an iDRAC enterprise licence.
The back of the server provides access to redundant power supplies, two USB 3.0 connections, a VGA connector, dedicated iDRAC8 enterprise connection, serial port, integrated NIC options and PCIe slots. You can choose between 495 watt, 750 watt and 1100 watt platinum-rated power supplies or titanium rated 750 watt power supplies.
Introducing the Intel Xeon E5-2600 v3 family of processors
The PowerEdge R630 family of servers introduces the Intel Xeon E5-2600 v3 family of processors to the compact 1U form factor. If required, the R630 can also be upgraded to the E5-2600 v4 family of processors. Intel's 4th generation 'Haswell' microarchitecture delivers more cores, additional cache and more power efficiency over the previous generation of Xeon processors.
Improved speed, density and consumption with DDR4 memory
The Intel C610 chips support DDR4 memory providing faster speeds, higher compute density and lower power consumption than the previous generation. When used in a dual CPU configuration, a maximum of 24 DDR4 DIMMs can support an impressive 1.5TB of LRDIMMs 32GB modules. Depending on the processor, the Dell R630 can achieve memory speeds of up to 2133 MT/s.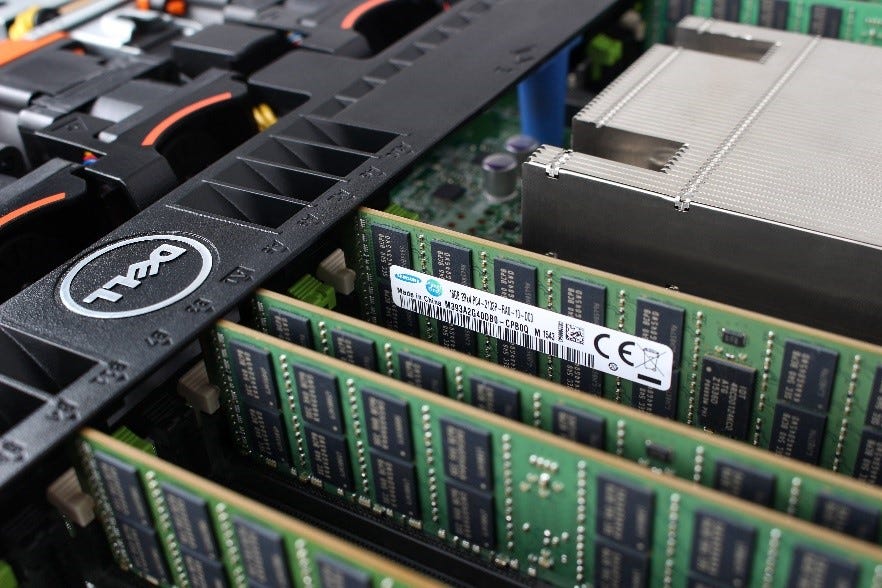 Impressive storage in a compact design
The Dell PowerEdge R630 offers a compact design with impressive storage which enables you to consolidate your data centre operations, adding to the affordability of the system. Several storage configurations are available allowing SATA, SSD or SAS drive options depending on your requirements. For base models, you can choose up to 8 x 2.5 inch small form factor SSD, SAS and SATA drives. For maximum performance, the R630 can be configured to support up to 24 1.8 inch SATA SSDs for up to 23TB of storage capacity. This provides almost two and a half times the performance compared to previous generations at about the same cost. Utilising a mix of up to 10 2.5 inch small form factor drives with up to four PowerEdge Express Flash PCIe SSDs optimises input-output operations per second. This reduces mechanical latency and leverages enterprise-class reliability in NAN SSDs. SSDs offer a significant increase in performance and durability over standard hard drives.
Enterprise-class controllers designed to increase performance
The Dell PERC (PowerEdge RAID Controller) family of enterprise-class controllers is designed to increase performance, enhance reliability and simplify management — providing a powerful and easy-to-manage way to create a robust infrastructure and help maximise server uptime. With the R630, you can choose between several internal PowerEdge RAID controllers including the S130, H330, H730 and H730P.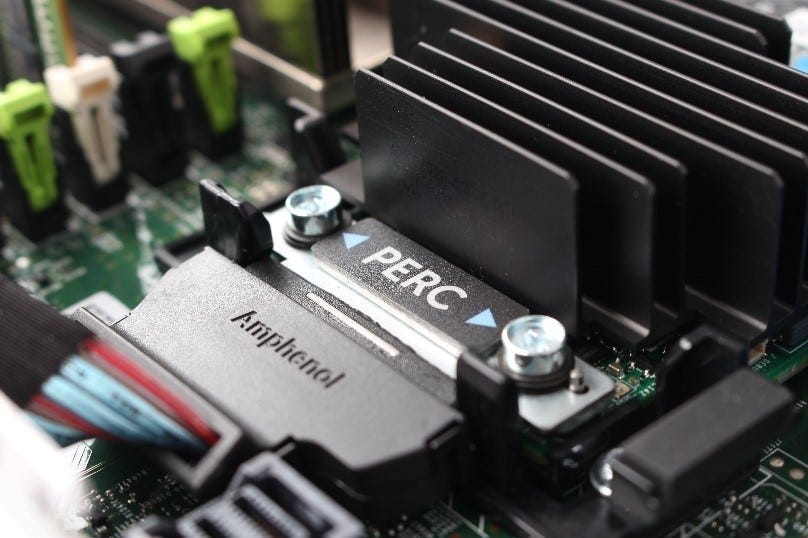 Remote management with iDRAC8 technology
iDRAC8 express level management technology comes as standard and is embedded into every Dell R630 PowerEdge server. This provides remote management and monitoring without the need to install additional software. Upgrading to enterprise, allows you to maintain complete sever control and access your server from any remote location in addition to enabling the dedicated management port and vFlash SD slot.
IT Administrators can easily monitor and manage the R630 using Dell's optional iDRAC Quick Sync monitoring solution. Optional iDRAC Quick Sync bezel connects directly to the server allowing administrators to use Dell's mobile app to quickly read and configure basic server functions. This feature only works on mobiles with Android 4.0.3 or higher, with Near Field Communication (NFC) technology.
Bottom Line
The R630 is excellent in a wide range of applications including virtualization environments, large business applications, transactional databases and software-defined deployments such as vSAN or ScaleIO. Don't let the compact 1U form-factor fool you. Size certainly doesn't matter with the Dell PowerEdge R630 which can support an impressive 1.5TB of memory, up to two Intel Xeon E5-2600 v3/v4 processors and 3TB of storage.
Configure your R630 to your exact specifications with Techbuyer
For detailed specification of the Dell PowerEdge R630, you can find the spec sheet here. You can also speak to our dedicated account managers who are highly trained in Dell Server solutions.
Techbuyer offers a free configure to order service. We will listen to your data centre requirements, quote a bespoke Server tailored to meet these needs and then build the Server for you, all completely free of charge. Three year warranty is included with all products from Techbuyer including our range of new and quality refurbished Servers.
Watch our server technician James configure this R630 server bundle with dual E5-2640v3 processors and 128GB of RAM. Like what you see? Get in touch with our dedicated account managers for a friendly, helpful and hassle free service!
Techbuyer is proud to be one of the foremost retailers of new and refurbished Servers in the world. We stock Servers from major brands such as HP, Dell and IBM, which are all stocked directly by us within our engineering facilities, so getting what you need couldn't be easier. Take a look at our full range of Servers or get in touch if you can't find what you're looking for.