It feels like no time at all since we signed up to support the UN Global Goals for Sustainable Development (SDGs) in October 2019. As we reach the halfway point, we are celebrating how far we have come while reviewing our progress against the targets set against the global framework.
The SDGs are a UN funded framework that lays out 17 goals for the sustainable development of our society and planet. The goals cover issues we must address globally to create a liveable planet for current and future generations. Any company can sign up to support the goals and decide where their work, values, and interests can make the biggest impact. The intention of the SDGs is to provide a layer of ambition and commitment that aids organizations to deliver a larger contribution than without the framework.
In October 2019 we held workshops with a specialist in the SDGs to identify which of the goals aligned most with our business and which measurable targets we could set.
To date we have been working hard to improve the impact that our company and technology has on the planet; we have decreased the amount of e-waste ending up in landfill, supported local charities and schools both here and overseas, including IT Schools Africa and Candlelighters, and helped educate young people on sustainable technology practices.
We have also been vocal about encouraging others to do the same.
Goal 3: Good Health and Well-being
The first of the SDGs we set targets against is Goal 3: Good Health and Wellbeing. Goal 3 aligns with our belief that investing in the health and wellbeing of people is of paramount importance. We encourage healthy lifestyles in our organization and we are committed to supporting healthcare organizations to be more efficient and sustainable.
As a result, we set the following targets against this goal:
Achieve £2.5 ($2.8) million in savings for healthcare organizations.
Achieve 15,000 active hours for our colleagues' and communities' health and wellbeing.
Establish long-term relationships with 35 health and wellbeing charities.
In 2021, our company made major inroads towards meeting these targets, and in 2022 we remain committed to the achievement of these goals. Our overall progress for Goal 3 is laid out below.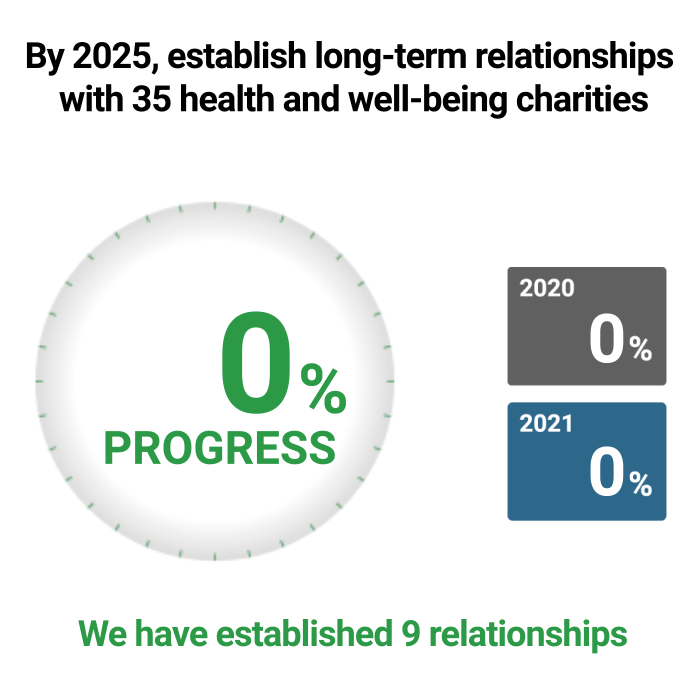 As part of Goal 3, we have several exciting projects underway. As you can see from the diagram above, we are well on our way to completing our active hours target. Every month we track the activity of our employees as we attempt to run, walk, cycle, canoe, hop, skip and jump the distance between all our global facilities, effectively completing one lap around the world!
As part of this goal, our team has been staying active and taking part in events around the world. One such event was the Great Knaresborough Bed Race at which we won best dressed bed and beat the Techbuyer PB at this year's race. Find out more here.
The work we do allows us to generate savings on technology for companies around the world, including healthcare organizations. In supplying high-quality refurbished technology, we help maximize IT budgets and provide impressive savings for healthcare organizations.
We continue to complete projects which build relationships with healthcare charities including Candlelighters who provide invaluable care to families dealing with cancer. As part of this partnership members of our Harrogate based team ran the Yorkshire Total Warrior challenge, facing daunting obstacles such as the Human BBQ and the Shocker.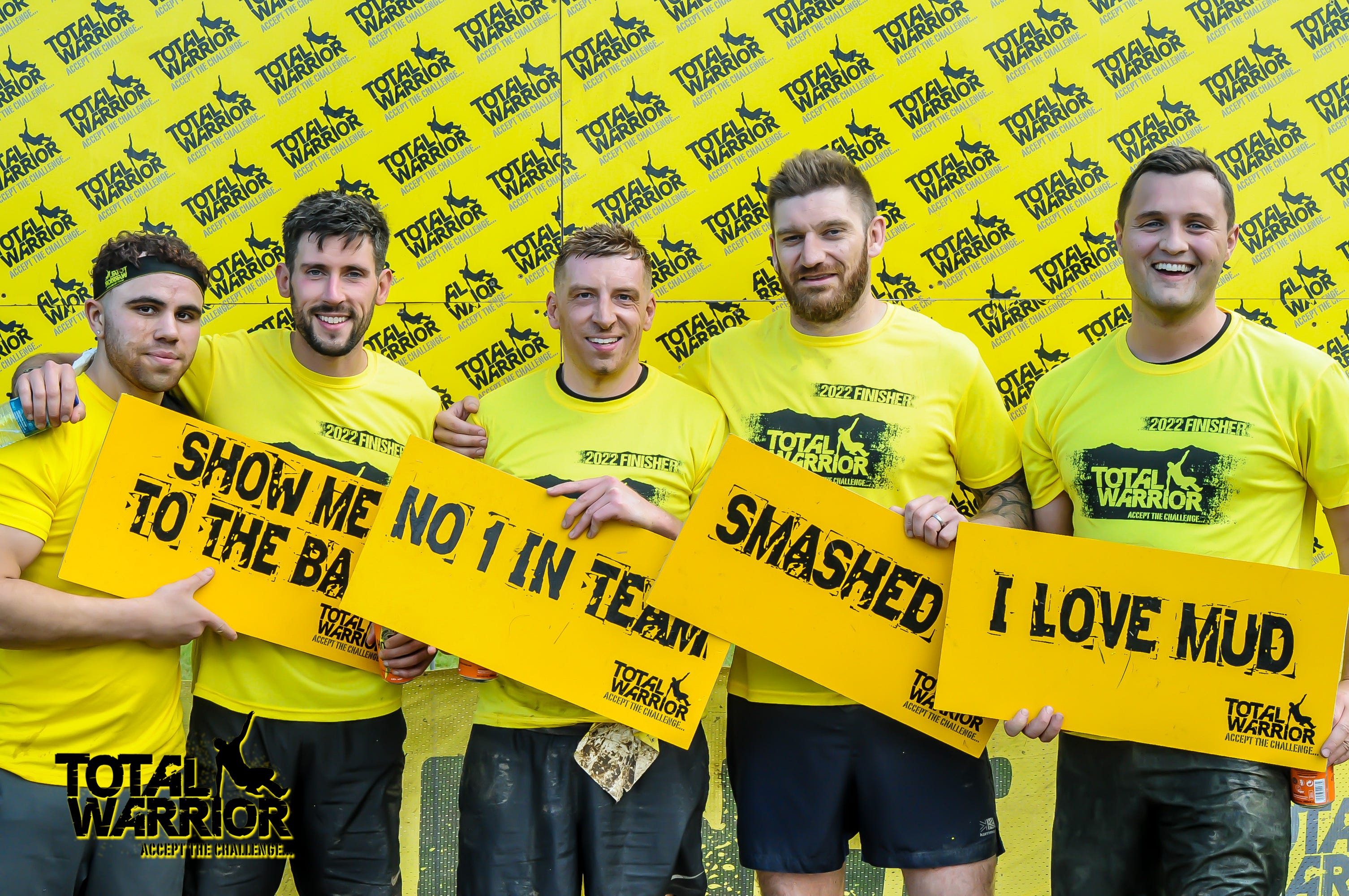 Operating as a sustainable business goes well beyond caring for the environment, caring about people is imperative. For a truly sustainable world, we must ensure a bright future is available to every individual, and we are proud of the progress we have made to support good health and wellbeing.
Goal 4: Quality Education
Goal 4: Techbuyer believes that quality education is the building block of a sustainable future. The provision of goal 4 aligns well with the work we undertake with educational bodies globally. Through providing refurbished technology, talking to schools about IT best practices, and donating devices for educational purposes, we work to make technology accessible to all and aid the development of quality education globally.
Within this goal we have set the following targets:
Achieve £3 ($2.3) million in savings for educational institutions.
Contribute 5,000 hours to the education of young people about sustainable digital practices.
Donate 220,400 lbs of technology to education bodies around the world.
2022 has seen us make further inroads towards achieving these goals. View our progress towards Goal 4 below: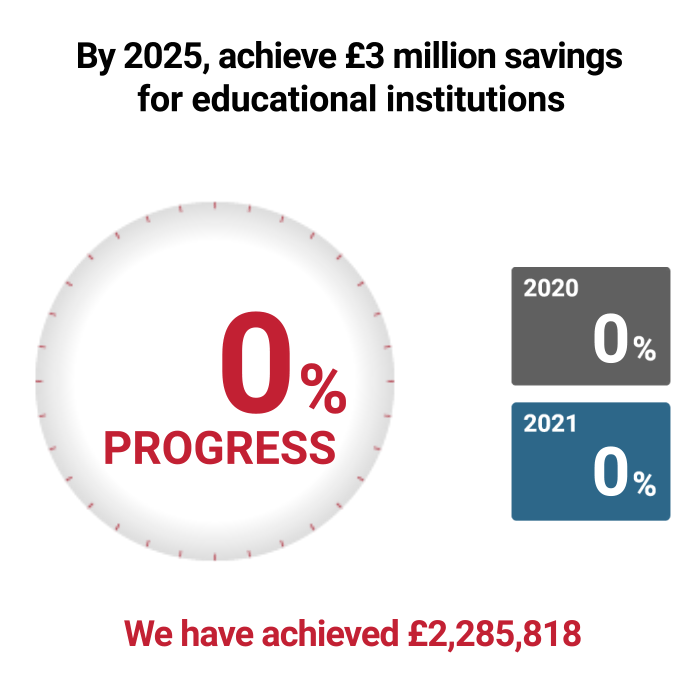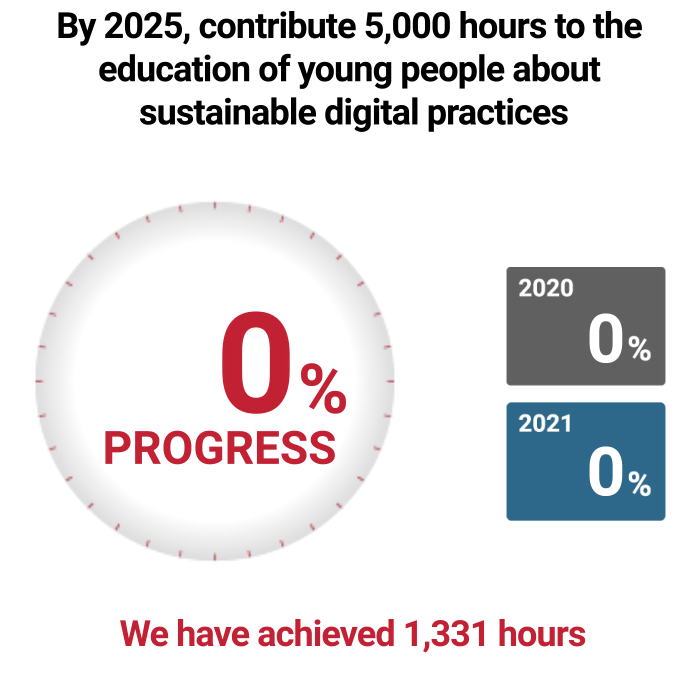 The projects we have undertaken to date, as part of this goal have helped make a positive impact on the lives of young people around the world. Our work with IT Schools Africa provides data sanitized, refurbished devices to children in Africa, including laptops, PCs, keyboards, screens, and mice as well as support for their annual teacher training programs.
We also spend time closer to home teaching children how to be sustainable with their IT equipment.
The steps we take to aid those early in life will contribute to building a brighter future for our planet and its people and we are proud of the progress we have made towards this goal so far.
Goal 12: Responsible Consumption and Production
We could not sign up for the UN Global Goals without setting targets against Goal 12: Responsible Consumption and Production. This work is the backbone of our organization and the focus for our services, business operations, research, and values.
Because of this, we have set three ambitious targets to help generate a more responsible way for businesses and individuals to buy, maintain and dispose of IT products:
Divert 8,800,500 lbs of technology from landfill.
Promote sustainable technology to 5,000 organizations.
Donate 1,500ft3 of waste as a resource.
So far, we have made great inroads towards meeting these targets. You can see the individual progress we have made into each target below:
Our policy of diverting technology from going to landfill and providing high-quality, refurbished IT solutions backed by ground-breaking research not only advances our understanding of how technology works but it has ensured that we have diverted over 2 million kilograms of waste from going to landfill since 2019.
Through our research, training, and content, we have promoted sustainable practices and technology to thousands of organizations around the world (currently we have shared sustainability technology messaging with over 3,500 businesses). We are determined to create a more sustainable IT industry for companies and individuals to access globally.
The planet cannot sustain our "take-make-waste" economy forever. We are seeing the strain of waste, material shortages, and the consequences of manufacturing, taking hold of our environment. The Responsible Consumption and Production Goal works to reduce the impact that societal habits have on the planet and promotes the creation of a circular economy that uses each material and each product to its full potential.
Looking to The Future
We cannot know exactly what the future holds but we are looking forward to hitting our targets and we will continue to dedicate time and effort to creating a more sustainable future.
With another three years to achieve our targets, our commitment to their completion remains. However, attaining these goals does not mark the end of our commitment to sustainability and environmental practice. We will continue to work to improve the impact that our business has on the environment and encourage others to do the same.
It would be easy to feel overwhelmed by everything that we could be doing. The UN Global Goals have given us the framework, knowledge, and support to get going and make a tangible impact that we previously did not think was possible. Because of this, we would encourage any organization to get involved with the UN Global Goals for Sustainable Development and improve their own environmental performance in accordance.
Find out more about the UN Global Goals here to learn how you can make a difference.
Techbuyer's Sustainable IT Solutions
Techbuyer is a global provider of sustainable IT solutions with a dedication to doing what is right for the planet. Offering research-backed IT solutions and sustainable services for the procurement, maintenance, and disposal of IT hardware. Techbuyer is determined to improve the impact that technology has on the planet. https://www.techbuyer.com/us/sustainable-it-solutions