Getting photographs of IT guys is one of life's many challenges, with excuses such as "What about my digital likeness" and "I've been sweating in the data centre all day" being the usual excuses. However, some of our highly technical IT employees have been forced to grin and bear it after certificates flooded in this month! Read on to find out how investing in training and courses for our employees improve the products and services we provide for you.
Rich & James become Certified Data Centre Professionals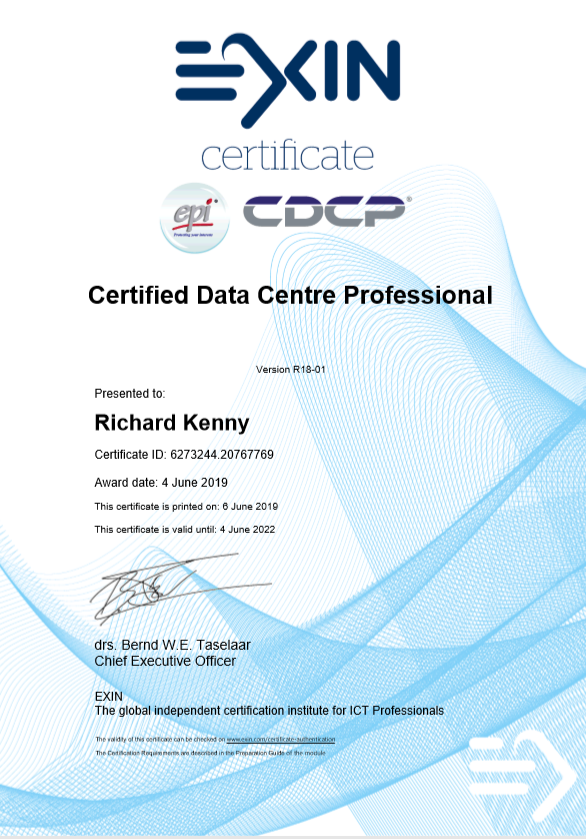 Techbuyer IT Security Manager, Rich Kenny and Infrastructure Manager, James Lord both became Certified Data Centre Professionals this month after completing a comprehensive two day course and exam with EXIN. The course covered a range of topics regarding data centre management including disaster recovery, location planning, cooling, risks associated with data centres and security.
"The course went into detail about factors you might not usually consider", says James. "For instance, I hadn't considered that in some cases geographical and political circumstances can make a big difference when it comes to the location and security of your data centre. Civil unrest, protests and economic strikes can present risks to the operation of the data centre and so it's important to understand the region you're in. Learning more about the environmental impacts of the inputs and outputs of data centres was also very eye opening. I found the course really interesting and I hope to go on to complete a further two courses with EXIN."
How does this benefit our IT team, I hear you ask!? Rich comments that "Courses like these ensure that when it comes data centre housing or management, you understand all the supporting infrastructure, risks and decisions involved. Techbuyer is heavily invested in training all staff to make sure they are amongst the best in the industry."
David becomes our first ADISA certified employee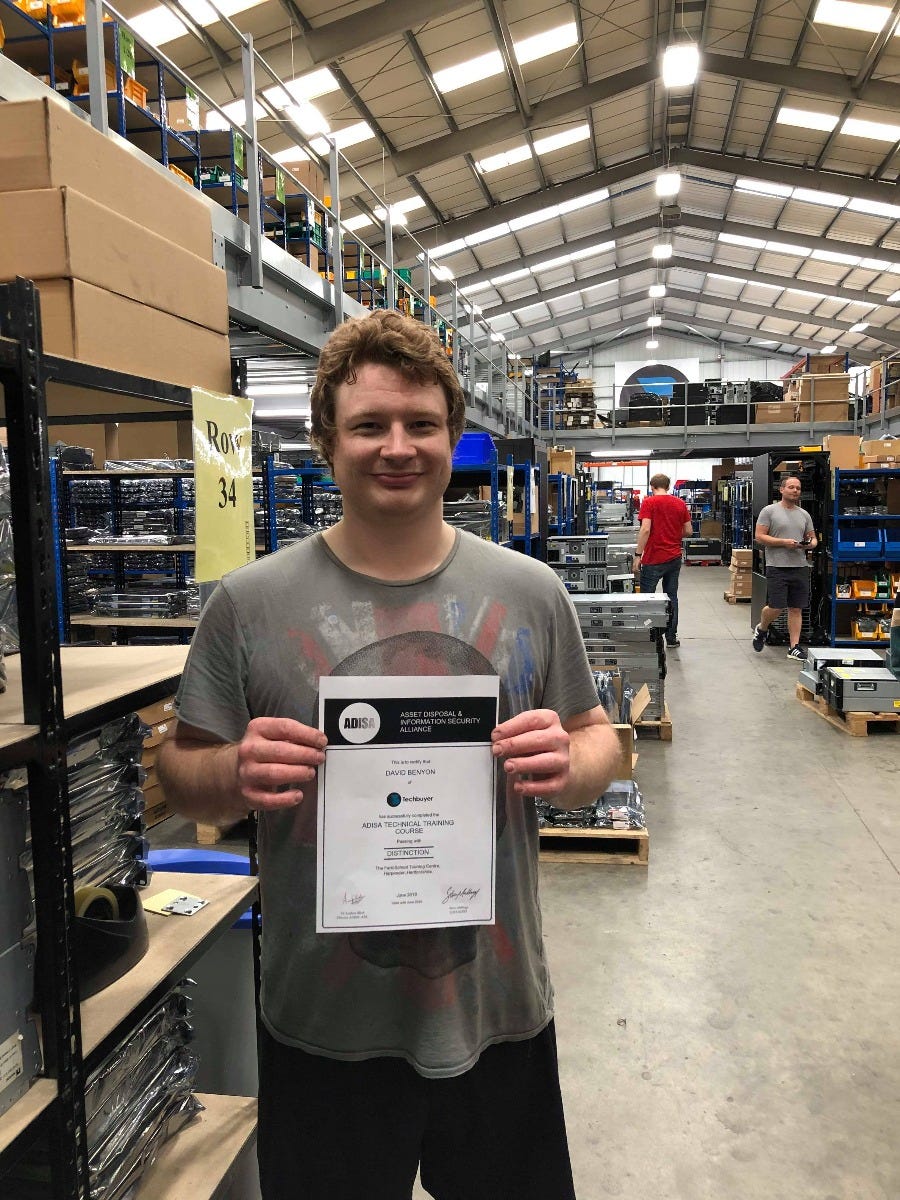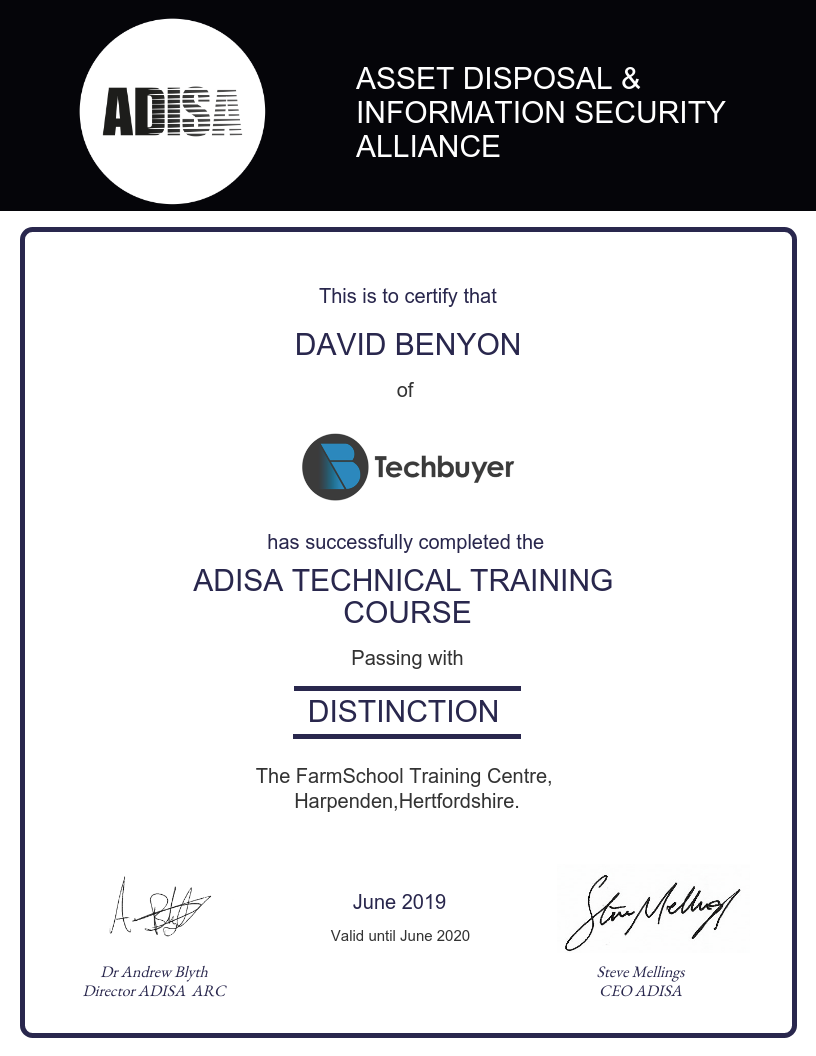 David Benyon, Testing Operative in our ITAD facility, recently passed the ADISA Technical Training Course with a distinction, becoming Techbuyer's first ADISA certified employee. The course covered the best practices when it comes to erasing data.
David says that, "Overall, the course added to the knowledge I already had about tape drives, hard drives, solid state drives, optical drives… The list goes on. It was particularly useful to speak with all the data erasure specialists in the room, who each had different industry experiences and practices to bring to the table. Hearing different perspectives meant that everybody's knowledge of device wiping and ITAD was enhanced."
Techbuyer's ITAD service recently passed ADISA's stringent requirements with Merit, meaning we have been recognised for our secure data erasure service. Out of the 600 companies that offer ITAD services in the UK, only 40 are ADISA accredited and so this is a great achievement for the Techbuyer team. David's distinction for his ADISA course further recognises our employees' dedication to ensuring all devices are fully data sanitised, and that our customers have complete peace of mind when working with us.
Jack bosses the CompTIA A+

UK Technical Services and Support Operative, Jack Borowiec became a Certified CompTIA A+ earlier this year. The CompTIA A+ is a high quality foundation course in IT and technical support which is well recognised by companies in the IT industry.
The CompTIA A+ provides an overview of areas in IT including networking, PC components and printers, and encourages troubleshooting when facing IT issues. "It's a bit like being a doctor," Jack comments. "You recognise the symptoms then analyse what is wrong and try to fix the problem. The course has given me the skills and confidence to approach a range of IT situations with this attitude, and I find it satisfying being able to solve a range of issues."
In particular, Jack is interested in computer security. "During the course I learnt a lot about different types of cyber attacks and some basic skills to minimise the risk of these. This was ideal as I am going on to complete the CompTIA Security+ course later this year. I'm looking forward to becoming more specialised in this area."
Tom passes Level 3 of his Apprenticeship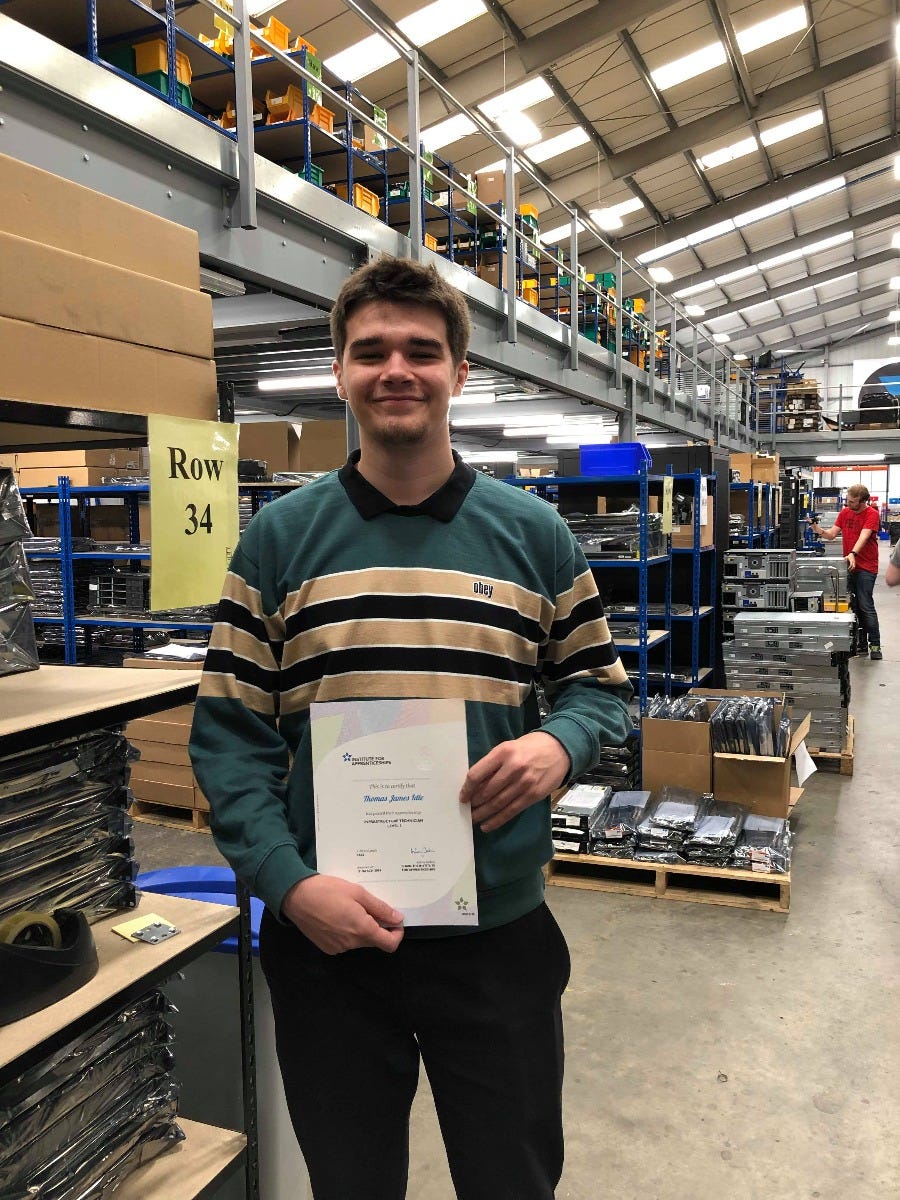 Tom Idle, our IT Support Technician, has recently completed Level 3 of his apprenticeship which is equivalent to A-level. The apprenticeship provides an impressive quality of training which equips Tom with a range of IT skills, knowledge and practices.
Tom comments that "When I was 18, I was offered the apprenticeship by Rich, who is now my manager at Techbuyer. At the time I was finishing off my studies at Leeds City College and was debating whether or not to go to university. Two and a bit years later, I'm now on Level 4 of my apprenticeship which is more or less equivalent to a degree. I am effectively being paid to learn, which is a great alternative to the debt associated with university fees."
"About 20% of my time is spent taking exams and studying, and the rest is spent working as part of the IT team at Techbuyer. I recently completed a CompTIA N+ course, which is similar to the CompTIA A+ that Jack took but with a focus on networking. When I am away for training every 6 weeks or so, I usually go for around three days at a time, which is a good balance between working and studying."
Apprenticeships are a great way to train employees in the exact skill sets and practices that Techbuyer requires. What's more, Tom's hard work and great attitude has given the IT team all the more confidence to continue offering apprenticeships and extended training.
---
Techbuyer is a global specialist in the buying, selling and refurbishing of data centre and networking equipment. With extended warranties, rigourous testing and secure data erasure, our refurbished IT hardware performs as good as new at a fraction of the original cost. To find out more about Techbuyer, visit our website.