Techbuyer is always looking for new ways to close the loop on resource use. Recently we have come across a charity called IT Schools Africa and have chosen it as a partner in the IT Asset Disposition Service.
The charity collects unwanted computers from companies, refurbishes them, and then sends them to four different countries in Africa to give IT equipment to children and teach them how to use technology. Techbuyer is now part of the partnership network, donating goods that are not part of the core inventory after the equipment has been data erased. It helps ensure that 100% of equipment is reused where possible and ethically recycled if not.
IT Schools Africa is not only closing the loop on resource waste and slowing down global warming, but it is also giving students access to the everyday technology that we take for granted.
The idea came about through an article that Helen Blakey, our Global Marketing Manager, saw in the EAUC's April newsletter. She then passed on the details to the rest of the team who contacted the charity asking if they would like IT donations.
IT Schools Africa is collecting four pallets of monitors, PCs, keyboards, computer mice and power cables from our engineering facility at the end of July. This is about 684 kilos of redundant computer equipment that might otherwise be sent to landfill or mechanically crushed.
More about IT Schools Africa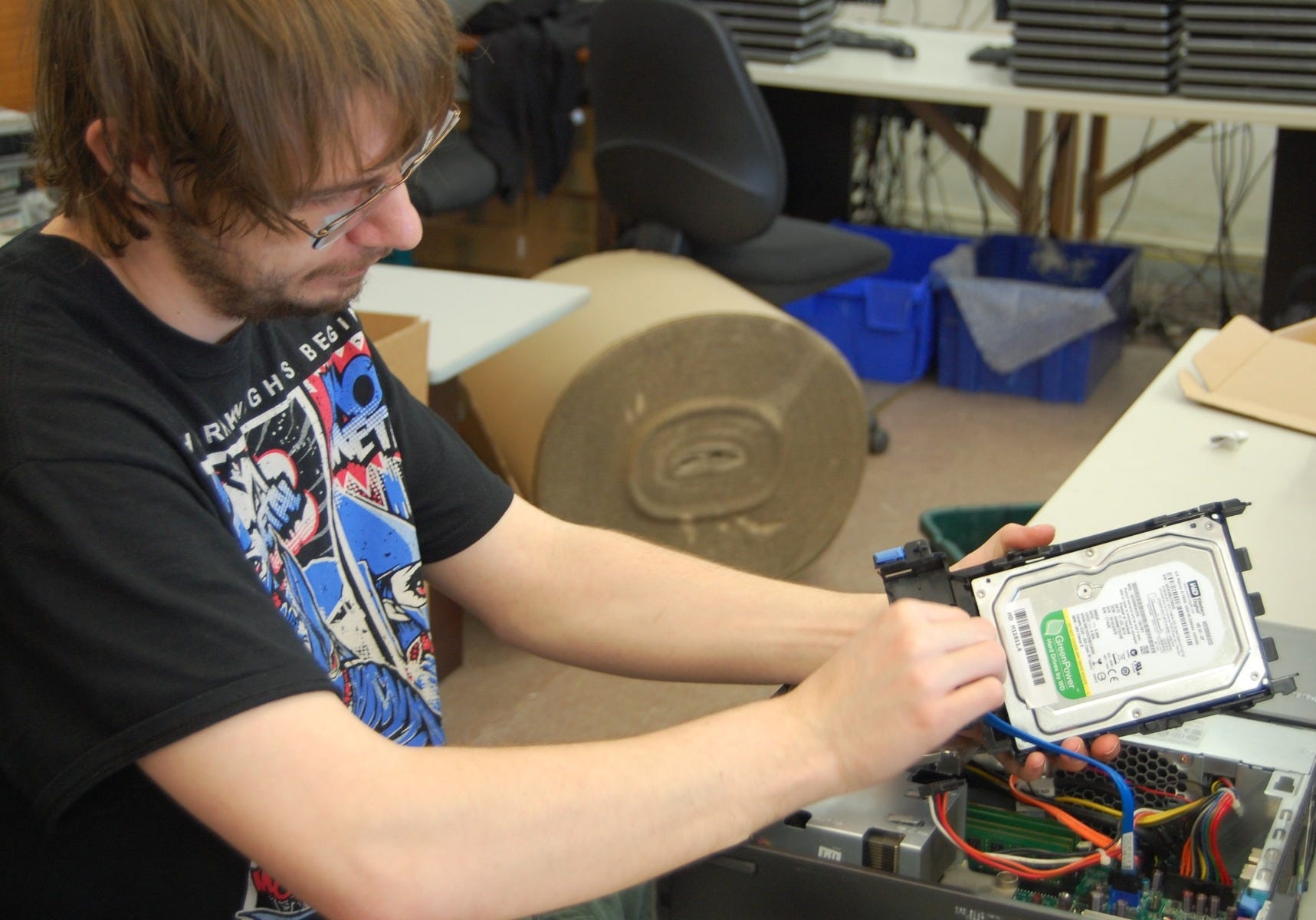 Where the charity operates
The charity is mainly based in four different African countries; Kenya, Malawi, Zambia and Zimbabwe. In some of these countries, one computer might be shared between ten children due to lack of resources. Malawi is one of the world's poorest countries so donations like this one can really make a difference.
Tech Connect
IT schools Africa has not only helped these countries, but also the UK. The charity has set up a centre to educate people who have limited technology skills and to help them become more confident with IT.
Working with UK prisons
IT schools Africa has also been working with HMP prisons around the UK. The inmates there disassemble equipment ready to be refurbished back at the workshop. This is not only beneficial for the company, saving time and money, but also gives the prisoners the opportunity to learn new tech skills and to help them give something back to society. The refurbished computers take around six to eight weeks to arrive at their destination.
Donations
All those wanting to make a cash donation to IT Schools Africa can do so here. Just £10 could help to improve a child's education. £50 will cover the cost of training a student or teacher in e-learning, and £100 will supply a free computer to a school in Africa. £10,000 will create an e-learning lab complete with 40 computers, helping to minimise the digital divide in Africa and ensure that more students can sit exams and gain valuable qualifications.
---
Techbuyer is a global specialist in the buying, selling and refurbishing of data centre and networking equipment. We supply over 150 brands, including HP, Dell, IBM and Cisco, and have over 225,000 parts in stock. To browse our products or to find out more about what we do, visit our website. For press enquiries, please contact marketing@techbuyer.com.