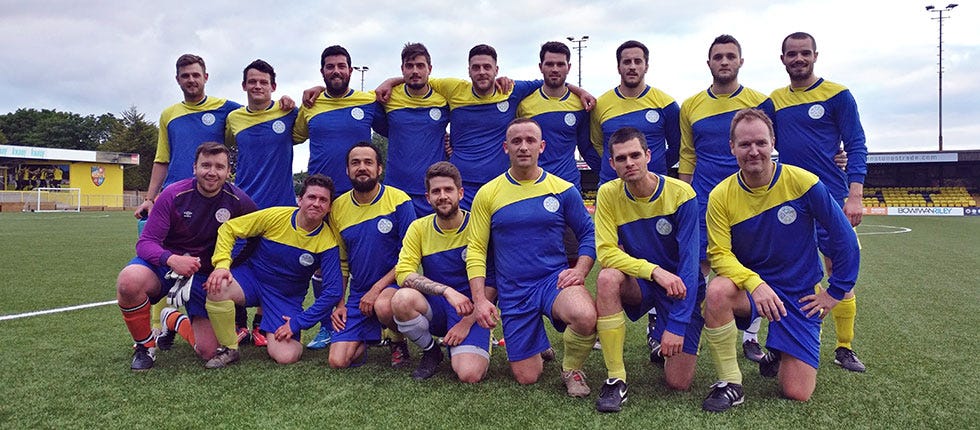 In Techbuyer's first ever football match against business neighbours EnviroVent, Techbuyer FC have done us well and truly proud, stealing a 9-7 victory from EnviroVent in the final minutes of the game.
In a match that "for a friendly… got a bit spicy", tensions were running high as both teams were desperate to claim victory.
EnviroVent got off to an impressive start, taking a 3-1 lead in the first half hour. However, Techbuyer managed to stay focussed and pulled level at 5-5 by half time.
With just 10 minutes to go, EnviroVent were in the lead again but three goals in the last ten minutes saw Techbuyer FC claim a hard fought victory.
One of the most memorable goals of the game came from goalkeeper, Ozzy Bilalli, who managed to score a phenomenal volley when deployed as striker later in the game. Gregg Kidd, who has just been signed by Knaresborough Town AFC, was another impressive scorer and managed to add an extra three goals to Techbuyer's score.
Dom Cottrill, who scored the final goal of the match said: "I know most of the team were exhausted, myself included (some of us hadn't played football in years!), but everyone battled on regardless- a top effort from everyone in the team. Our inspired tactical approach of 'give the ball to Greg' paid off! Big thanks to the Gaffer, the true 'Special One' Rich Cordice for organising it all. Bring on the next challengers!"
Plans are in motion for a second match with EnviroVent.