Do you remember learning about sustainability at school?

Chances are, you won't, because it has only recently begun making its way into the UK curriculum. For us, this was a welcome addition to children's education, and as specialists in sustainable IT, we're keen to offer our expertise and support to the specialists of tomorrow.
That's why six members of our team went down to The National Museum of Computing last month to deliver a sustainability focus day to 44 computer science students aged between 11-15. Located on the site of the world-famous Bletchley Park – where Alan Turing and his WW2 code breakers were based – the Museum is home to the world's largest collection of working historic computers, so it was the perfect place for our team to discuss the future of the industry: sustainable and circular IT.
We presented five sessions, giving students insights into climate change and how we can reduce the role tech plays in it through our consumption habits. The learners were also given the opportunity to see how devices like hard drives and laptops work via interactive lessons with hardware we donated to the Museum.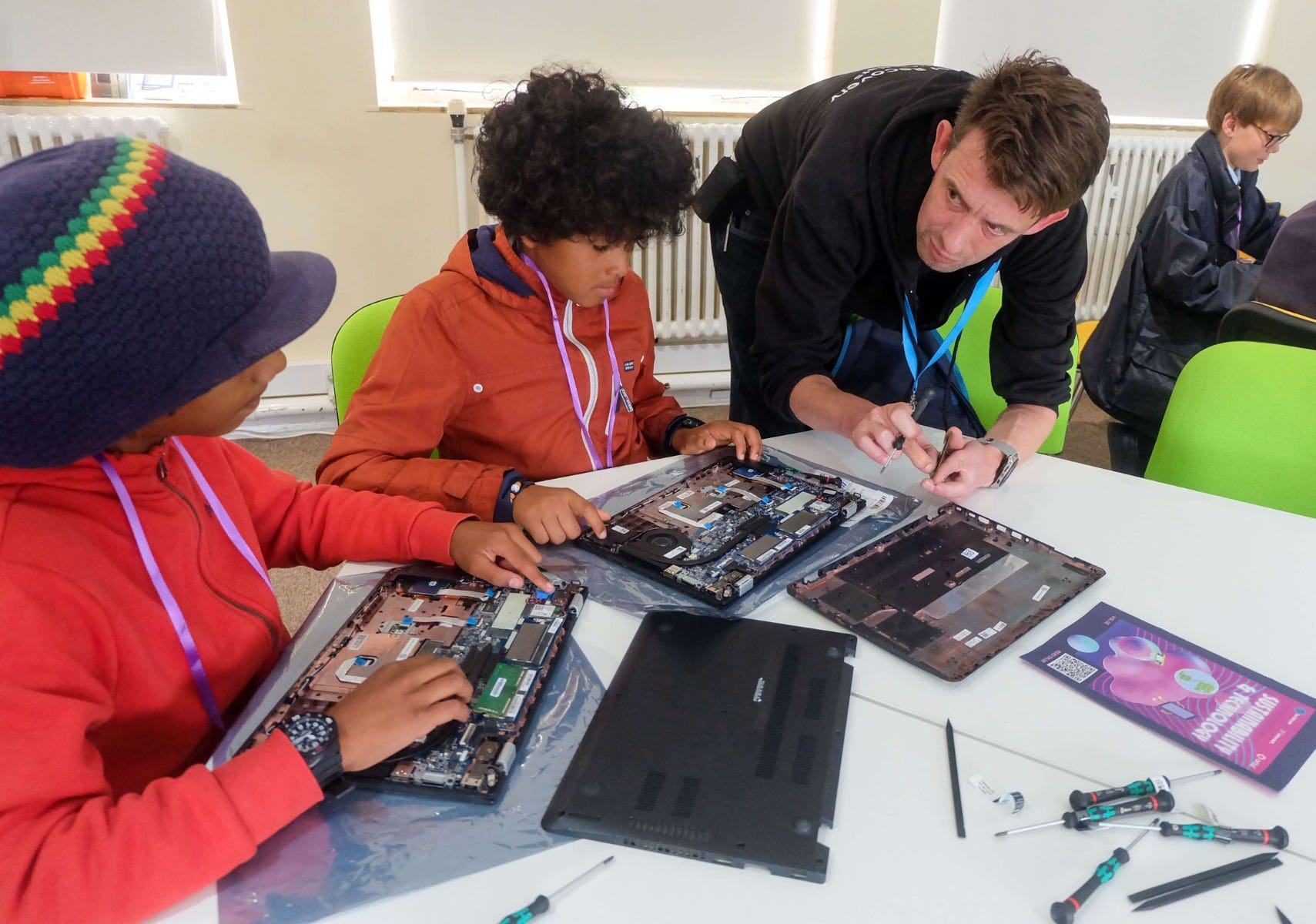 Why is this important?
It can be easy to lose sight of the impact that our tech can have. Embodied emissions from hardware production, energy use in data centres and networking equipment, materials shortages caused by our linear economy – these are all major environmental challenges associated with our industry. For most people, however, these are often hidden from view.

The next generation will be the ones designing and building sustainable solutions to these issues. We're committed to supporting their development by illuminating these social and environmental problems with the aim of inspiring ideas and informing decisions they make in their every day lives.
This is something we've been focussed on for many years and is reflected in our UN Global Goal commitments. Among our 9 targets, we've pledged to contribute 5,000 hours of our time to educate young people about sustainable digital practices by 2025. This event is one of many approaches we've taken to doing this, with others including tailored work experience placements and community events like the Harrogate Climate Action Festival. So far, we've racked up almost 1,700 hours, with over 150 going towards this event alone!
What did we do?
The day began with three sessions that provided the foundation for the day. With our Sustainability Team, the students learned about climate change – although they already knew a lot! – and how our use of technology contributes to it, covering topics like greenhouse gases, global resource supply chains, and embodied carbon. With our resident ITAD expert, Alan, the group then got their hands on some laptops to see the components that make them tick. We then had a specialist session on hard drives with Sally from our sister company, Interact, and Tal from the Museum, who gave the students a whistlestop tour of SSDs, HDDs, and RAM, before giving them a chance to see how a hard drive works.
The two afternoon lessons focused on how we can make tech more sustainable. Astrid explained the high energy use in data centres and networks and how we can use this information to be more sustainable in our use of data, e.g., by streaming less and using the cloud only when we need to. With Jack, the class learned about an alternative economic system that can maximise the value we get from our resources – the circular economy – and they even had a stab at coming up with ideas to make their schools more circular!
The feedback from the students, teachers, and museum was fantastic, with one student describing it as "like revision but fun." The key information from the sessions – along with some quizzes and glossaries – is summarised in the digital version of the Zine we created for the event, which is available online here.