"If Google is using refurbished… Why isn't every business?"
This is something that our team often asks itself. The answer is that many IT professionals don't know about the many benefits of refurb.
However, this is changing. As manufacturers have struggled to keep up with demand during the pandemic, more businesses have turned to refurbished IT for quality solutions.
From performance as good as new, to warranties that meet or exceed the manufacturer, there are hundreds of reasons why refurb is gaining popularity. Find out our top 21 reasons in this blog.
1) Performance is proven to be as good as new
Refurbished servers and IT parts provide the exact same performance as new. This is something that has pleasantly surprised our clients over the years.
In 2020, Techbuyer and the University of East London measured the energy and performance of CPUs, server RAM, and data centre storage. The first stage of benchmark testing revealed that a new and refurbished server, of the same manufacturer and model, had identical performance.
The results of this research are reflected in industry practice. Google has been refurbishing its own servers since 2015. The company has saved over $1 billion in terms of operation costs, purely based on energy efficiency. They state: "Once components are in inventory, there is no distinction made between refurbished and new inventory, both are considered equivalent." (Source: Circular Economy at Work in Google Data Centres, Ellen MacArthur)
2) Immediately available stock
The Covid-19 pandemic has shown just how important immediate stock is for today's organisations. Demand for laptops sky-rocketed in early 2020 as businesses required quick and flexible remote-working IT solutions. When manufacturers struggled to keep up, organisations started buying quality refurbished laptops.
Refurbishment specialists store IT equipment directly into their engineering facilities. This enables fast turnarounds and avoids any long manufacturing waiting times. Techbuyer has over 225,000 servers, storage and networking solutions, PCs and laptops in stock globally, from over 150 brands including HPE, Dell and IBM. This enables us to ship IT equipment quickly.
Despite global demand for IT going up in 2020, manufacturers reported losses.
3) Impressive warranties
When you buy from quality refurbishment companies, warranties often meet or exceed that of the original equipment manufacturer (OEM). This provides the ultimate peace of mind that your IT devices provide the same quality performance as new.
At Techbuyer, we are so confident in the performance of our IT systems and parts, that we always include an unbeatable three year warranty.
4) Lower RMA rates than the manufacturer
A common misconception of refurbished IT hardware is that failure and return rates are high. But this couldn't be further from the truth.
At Techbuyer, our RMA rate is lower than the manufacturer. This is partly explained by the Bath Curve, which shows that failures are most common when commissioning and using new devices for the first time. Since refurbished devices have already been used, failure rates are expected to be lower than new.
Lower RMA rates are also explained by reason no. 5…
5) Extensive testing
OEMs typically spot-test IT equipment. However, refurbishment specialists carry out extensive testing to ensure every device performs optimally.
Techbuyer has a rigorous 25-point recertification process. From inspecting each individual component to secure data erasure, reliability is the priority at every stage of the process.
6) Refurbished upgrades can make previous generations out-perform new
Whilst manufacturers reported shrinking revenue for server and storage equipment during 2020, sales of refurbished equipment increased. This makes sense when you consider that IT upgrades were the most common reason for budget spend in 2020.
Spiceworks predicts that the popularity of upgrades will continue in 2021, which is no surprise given the regular upgrading of remote working solutions. So, if there has ever been a time to choose cost-effective, high performing IT upgrades, it's now.
For reason no. 6, we return to Techbuyer and the University of East London's ground-breaking research. The second stage of testing added refurbished server memory to a Gen9 server. The upgraded Gen9 provided better performance than a Gen10 server, which was of the same manufacturer and model.
Whilst the traditional advice has always been to "refresh often and with new", this new research reveals that refurbished IT upgrades can be more efficient option.
Interested to find out why? Watch the below webinar lead by Nour Rteil and Rich Kenny.
7) Access to IT equipment no longer available through the manufacturer
After a few years, manufacturers will stop providing one generation of technology to make way for the latest version. This leaves organisations with two options: replacing with newer IT equipment or upgrading their existing IT equipment through the secondary market.
Replacing with new makes sense for high performance computing, since all the latest features will be utilised. However, most organisations are unlikely to need the most expensive technologies.
Many of our clients choose legacy, refurbished generations with us to avoid the expense of upscaling with new. We stock over 225,000 IT systems and parts, from the oldest to the newest server generations. This caters to every organisation's IT requirements.
8) Zero conflict with existing systems
If your organisation decides to upgrade your current IT hardware with refurbished, this will be 100% compatible. There will be also be no conflict with your existing system.
9) Significant cost savings
Out of all the reasons to buy refurbished, this is probably the one you have heard the most about. Reducing costs is especially important in today's climate, where IT infrastructure managers are expected to do more with a reduced budget.
Most refurbished IT systems and parts are far below the OEM price. For example, the refurbished IT solutions we supplied to Torbay Council cost 52% lower than the OEM. This is a great way to free up costs for elsewhere in your budget.
Watch our Group IT Director, Rich Kenny and Group Sales Director, Josh Kidd discuss the cost savings available when buying refurb below.
However, cost savings aren't the highest reason on our list, and for good reason. When surveying new customers of ours during the Covid-19 pandemic, we found that most people bought refurbished servers and other equipment with us because of stock availability and reliability, not price.
10) Maximised flexibility
Flexibility is a crucial part of IT procurement. Whether upgrading remote working solutions or refreshing large data centres, every organisation has different IT requirements.
At component level, refurbishment specialists often provide a choice of new, refurbished and third-party devices. You also have the option of making hybrid IT solutions, which are a mixture of new, refurbished, or third-party. Choosing a combination is a great way to maximise your IT budget and meet all your technical specifications.
11) Free configure-to-order service
If you're looking for even more flexibility, why not design refurbished servers that meet your specific IT needs? Our team has a Configure-to-Order service with free configurations and fast deliveries. If you have any used servers on your hands, we can also deploy these and reuse the components.
Or try our online server configuration tool to design refurbished HP servers in minutes.
12) Excellent data security
Data regulations don't just apply to the businesses selling their data-bearing devices. They also apply to the companies buying refurbished equipment. This means that when you buy refurbished laptops, data centre equipment or PCs, it's crucial to choose a trustworthy company that sanitises 100% of data.
So, how can you tell how secure a company is? Look out for industry certifications. The International Organisation for Standardisation (ISO) is a well-recognised benchmark for company responsibility. In particular, the ISO 27001 demonstrates that all client data is protected to the highest industry standards.
If you're looking to sell your used IT equipment, ADISA is the leading IT Asset Disposition accreditation involving unannounced audits. Our team is the fastest organisation to achieve the ADISA accreditation and we take pride in the safety of our process.
13) Extended support and product lifetimes
Whether you need to upgrade your current system, sell your used hard drives or buy refurbished laptops… It's easy to manage your entire IT life cycle with a refurbishment specialist. Rather than simply buying new, you have a wide range of services available to maximise your IT budget.
We have a range of services to maximise your IT budget including laptop upgrades, IT Asset Disposition and IT Rentals. We also buy and refurbish your used IT equipment, which saves you money whilst keeping quality devices in circulation.
Thanks to the EU Ecodesign Directive, firmware updates are now available for refurbished equipment. This is also something that the European Parliament supported in November 2020.
In other words, there is no difference to buying new.
14) Cheaper maintenance contracts
Maintenance contracts from the OEMs are much more expensive than third party maintenance contracts. Techbuyer provides the latter cost-effective option.
OEM maintenance contracts get even more expensive after the first three year standard warranty. There is a suspicion that this is to encourage people to buy new.
15) Better for your IT environment
Gartner states that 120m new servers are coming online 2019-2023. Since the global data centre market is expected to grow 500% globally in the next ten years, we can expect that number to explode further unless we find more circular approaches to IT hardware provision.
Here I return to Techbuyer and the University of East London's research. The traditional attitude has been to refresh to the latest generation to double energy efficiency. However, recent CPU trends show that efficiency at maximum capacity is tailing off. In fact, efficiency is actually decreasing in idle mode. This means that older, refurbished servers can be more efficient than new. With servers spending the majority of time in low power mode, these findings are important for today's IT infrastructure managers.
16) Stop mining finite materials
It's no secret that the endless manufacture of electronic goods, without reuse & recycling, will have a devastating impact on the planet. The manufacturing process releases substantial Greenhouse Gas and Scope 3 emissions, uses finite resources, and damages landscapes.
Servers, storage and networking equipment contain 23 out of 30 Critical Raw Materials (CRMs). These resources, such as aluminium and silicon metal, are due to run out in a matter of decades and are typically resources which are mined illegally.
When you consider that data centres are predicted to use six to eight percent of global electricity by 2024, it's clear that this is a large-scale problem. Keeping our millions of devices in circulation, and reducing the need to remanufacture new, is the best way forward.
17) Reduced e-waste
Not only does buying refurbished reduce the pressure to manufacture new, but it also reduces e-waste. Over 50 million tonnes of e-waste is sent to landfill every year. The World Economic Forum says this is the equivalent of the weight of all commercial aircraft ever built, and unfortunately this number is only due to rise.
There are several reasons for this waste. Firstly, IT refresh rates are very high. Servers are typically used for three years before being discarded. Secondly, used IT hardware is still being discarded or shredded, rather than data erased and refurbished. More awareness of secure ITAD and data erasure services is required here.
Using the resources that we already have ensures we create a circular economy. This reduces e-waste and its associated environmental impact. An example of this is Microsoft's new Circular Centre which will recycle and reuse redundant servers. This is part of the company's plans to generate zero waste by 2030.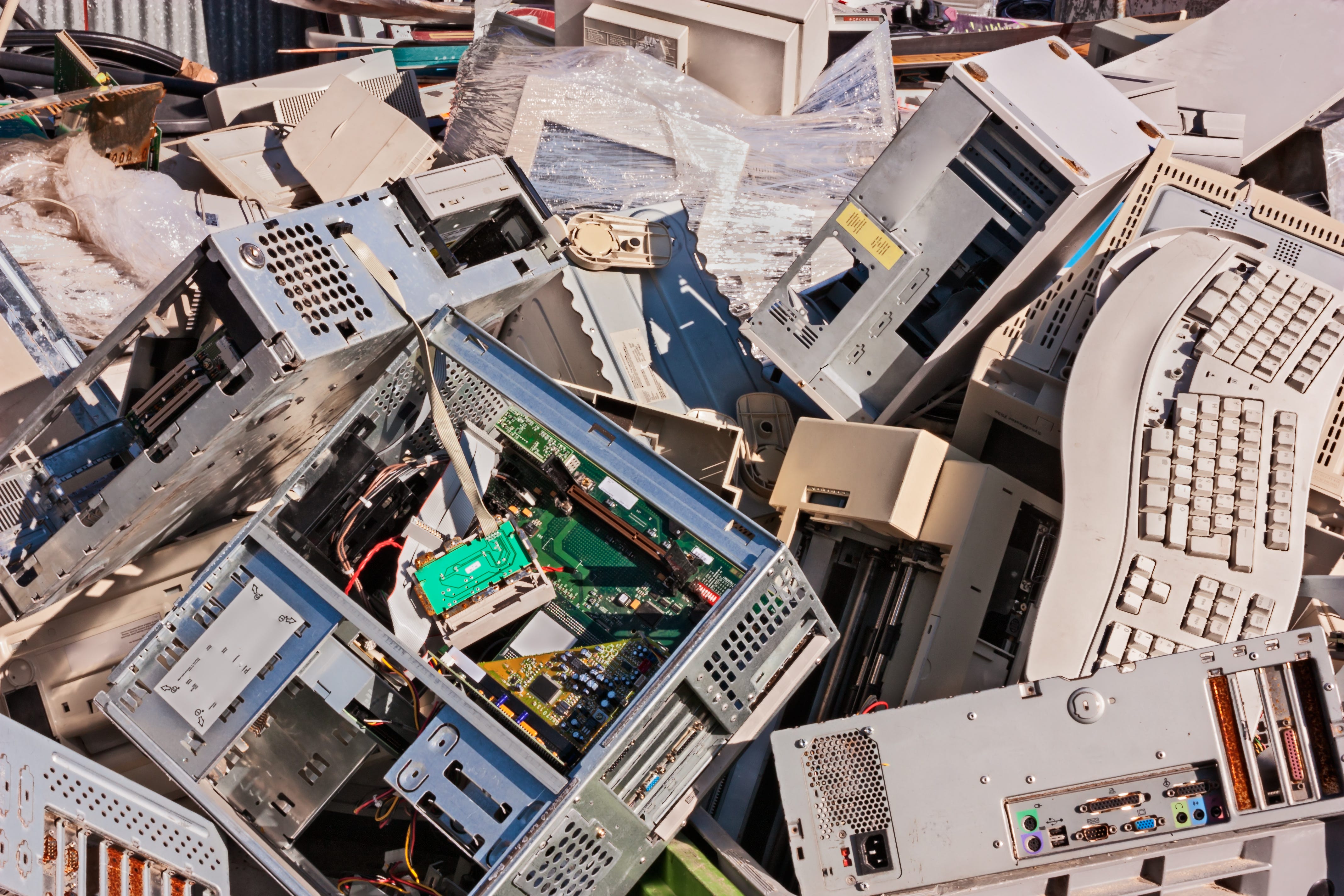 18) Fully compliant with WEEE Regulations
Certified refurbishment specialists are compliant with the 2013 Waste Electrical and Electronic Equipment (WEEE) regulations. This ensures that devices, once refurbished and used, will be ethically recycled rather than sent to landfill.
19) Reduced supply chain carbon footprint
Servers contain a large amount of steel, aluminium and plastics, three of the top five worst culprits when it comes to industrial greenhouse emissions worldwide. Dell's work on carbon footprints for its products says that the carbon involved in the mining, manufacture and transport of a server before it is used adds up to around 1200kg CO2e for the average tower server, 1300kg CO2e for the average rack server, and 1750kg CO2e for the average blade server.
Choosing to upgrade and extend the life of servers saves on a significant amount of carbon per unit. This can then go towards an organisation's carbon accounting.
20) Backed by Industry-leading research
Exciting research is emerging about refurbished IT equipment. Academic findings provide ultimate peace of mind about the high quality of products and spread the benefits of refurbished. From finding new ways to reuse IT hardware, to examining the energy efficiency of refurbished servers, it's certainly a dynamic market to be in.
One example of industry-leading research is the Circular Economy in the Data Centre Industry (CEDaCI) project. By bringing together IT professionals, academics and manufacturers, the project is finding answers to long-asked questions in the industry. This will enable further reuse of data centre equipment.
In November 2020, European Parliament backed the Right to Repair. In short, this means that people will be able to repair and reuse their IT devices whenever faults occur. Previously, when equipment broke, people had to pay expensive manufacturer fees or replace with new.
By backing this campaign, the European Parliament are supporting a more circular approach to technology.
21) A personalised experience
When you work with a refurbishment specialist, delayed response times will be a thing of the past. You will be assigned a dedicated account manager, who will discuss your specific IT requirements with you. They will also be able to give you unbiased guidance about a wide range of IT equipment.
Hear about our fast response times from our Group Sales Director, Josh Kidd in this video.
---
About us
With over 15 years of experience buying, refurbishing and selling IT hardware, it's safe to say that our team is a fan of the secondary market. We have a hassle-free, sustainable approach and take pride in our circular business model.
Techbuyer has grown to become a leading provider of sustainable IT solutions with sites across Europe, the US and Asia Pacific. We provide unrivalled customer service for our clients across the globe and deliver 99% of orders the very next day.
Between January and October 2020, our team refurbished 460,000kg of IT equipment. Our certified refurbished IT equipment guarantees the same reliability and performance as new.
Browse our wide variety of refurbished laptops, desktops, servers, storage and networking equipment today. Or to begin your journey with us, contact our experienced team who will be happy to help.