TechBlog - Stay Connected!
We have a dedicated website for your region, would you like to go there?
How Interact Delivers Accurate Choices on Server Cost, Performance and Energy Use
With years of experience in the business, you get a feel for which are the best servers for a particular workload and how to deliver best value to customers based upon this. However, being able to back that experience up with verifiable data generated by a machine learning tool is invaluable. With the aid of Interact, Techbuyer Group's new business, we can not only give a procurement cost comparison, but also compare energy usage and return on investment over a period of time. Over the first few weeks of using the tool, we have been able to save our clients a combined value of over £105,000 with data analysis on running costs, purchase costs and performance.
These are three of the first examples of how useful a tool backed up by scientific research verified by the IEEE is to the IT market.
Customer question: Which generation is best for my IT requirements?
There is a big step change in prices between generations of servers, even when both options are refurbished servers. One customer recently asked us to explore which option was best for their business – the latest generation of a popular server with mid-range CPUs or the previous generation with a slightly higher specification of CPU. The IT procurement price was 56% lower with a previous generation, but would this mean increased running costs? And would it provide the same performance?
Feeding the information into Interact revealed that for the customer's workload, 20% more cores in an immediate previous generation of server resulted in a 17.4% increase in efficiency of a later model, with a lower powered CPU when you considered performance per watt. This meant that the later model was not only more expensive to buy, but it was also 42.6% more expensive in annual cost to maintain and manage. Buying the latest server also meant slightly more on energy bills and therefore carbon output. The figures in this case worked out like this:
Over £12,000 saving on procurement cost
Around £2,500 saving on annual IT costs
Slightly lower top end performance but comparable horsepower, with increased energy efficiency

Should I upgrade my server RAM or buy a new server?
Needing extra capacity is a common problem for many customers, especially as working lives are increasingly online at the moment. Finding the best answers to provide this with IT hardware provision is really important. However, the question is, does your organisation need an additional server to run your new workload or can you upgrade existing IT equipment to do the same job? IT upgrades can be easier because you do not need to migrate workloads to a new server, so expanding legacy costs can save time and hassle, as well as save money. But what is the analysis on this from a cost, performance and energy standpoint?
One of our customers came to us with exactly this problem, wondering what the comparison between additional server RAM on their existing servers would be as opposed to buying a new server. By running the data through the interact tool, we were able to run analysis on the two alternatives, which gave the following information:
£534 for a component upgrade results in 18% increase in performance
£4,729 for a new server results in 25% increase in performance
3% increase in running costs for new RAM vs 25% increase in running costs for a new server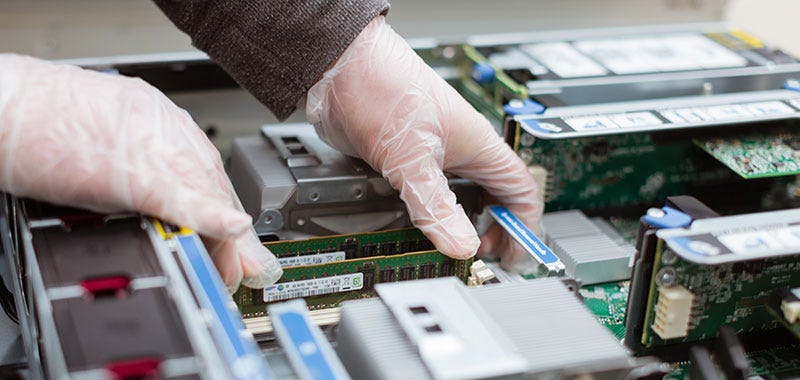 Which brand is best for my workload… and does it have to be new?
Standard practice for all Techbuyer sales staff is to ask what the IT environment of their new server will be, the kinds of workload it will be running, and how much they would like to spend. In-depth product knowledge has given us confidence in our predictions, yet even we can be surprised at the size of difference between two servers when it is measured by the Interact tool. An example of this was the benchmarking we carried out between a new server blade model from one manufacturer, with a remanufactured machine from a previous generation from another.
The price difference between the latest and an older server model was startling: a 70% saving. However, Interact was able to tell us that the performance on both machines was similar and that energy efficiency was also better with the older machine. Running costs were nearly 40% lower with the older machine, turning the idea that the latest and greatest will always save money on the energy bill on its head. With analysis of workload over energy draw, we were able to point out efficiencies that the product sheet on its own would be unable to do. Each generation has different qualities, and each model is geared towards a different workload, so analysing what customers actually need and going backwards from there is invaluable:
Over £50,000 saving on IT procurement cost over the year
Around £8,200 saving on annual costs
Comparable horsepower, with increased energy efficiency
What is the best way to assess my IT procurement choices?
We at Techbuyer have always advocated assessing what you need and then making purchases to fulfil that. There is no reputational gain by overspending on high specification machines if you are not going to use their capacity, and customers risk wasting money and resources with this approach.
Our use of the Interact tool has both confirmed the wisdom of this approach to IT equipment and put some values around this. It shows that in some cases, upgrading server components makes more sense than buying new servers, that some previous generations can out-perform the latest when optimally configured, and that it is worth shopping around vendors when buying IT hardware. Each situation is different and will require different IT equipment – and there will always be situations in which customers need the latest technologies. However, this is not always the case and understanding requirements, costs and hardware with scientifically proved methods can only be a good thing.
---
Techbuyer is a sustainable IT solutions provider. We supply over 225,000 new and refurbished IT systems and parts including servers, storage and networking equipment, laptops and desktops. With over 15 years of experience in the sector, we also extend the life cycle of existing IT equipment by upgrading, repairing, buying and refurbishing IT devices.
Interact is Techbuyer Group business that helps IT managers to create cost-effective, energy efficient and sustainable data centres. Find out how the team can help your business today.